May Day
by Heather Haldeman
"Hurray! Hurray! It's the 1st of May. Outdoor sex starts today!"
"Mom!"
"I know," she laughed. "You wanted the mother with the bun in the back, the Peter Pan collar and the cross around the neck."
"It's just what a thing to say to your daughter?"
"Relax, you're an adult. Loosen up."
That was how she greeted me as an adult every May 1st on our morning phone call.
Marilyn was not the mother I'd wanted as a child. She wasn't like any of my friend's mothers. They drove station wagons. She was in a sports car. "I don't want to haul a bunch of kids around."
She wasn't like the mothers on 60s tv shows either, doing housework wearing a crisp shirtwaist dress with an apron. "An apron's not sexy unless there's nothing on underneath it," she said.
Mom's preferred dress was a little low-cut black cocktail number for going out. At home, she paired slim slacks paired with a shirt tied above the waist to show just a hint of her toned midriff.  "Sorry, Heatherbean," she said, using my childhood name. "I don't dress like a Junior-Leaguer. They turned me down as a member anyway. Screw 'em."
Mom was never awake with me when I got ready for school. She needed to "get her mouth on" – have her morning coffee – before she could even speak to my sister and me.
Every evening, as she waited for the return of a wayward husband, Mom had a cocktail and a Bufferin. A cigarette in her hand before 5 o'clock in the evening signaled trouble. She never hid the truth.  "I don't know if your father's coming home for dinner. I think he's got a broad."
She didn't hold back after my father left, either. "What are we going to do? Money's tight. It's chicken one day, feathers the next." I was eleven.
As an adult, though, I saw a new quality in her. Resilience. As she picked up the pieces following the departure of her second husband, she said, "No one is going to come knocking at my door to fix this mess." She daubed on the lipstick. "I have no profession to support myself, so, the eyelashes are on and I'm getting back out there to look for a man."
I rolled my eyes. "Isn't there another way?"
"It's what I know. But trust me, Heatherbean, this time I'm going to get it right."
She was tenacious, creating a "resume" photo, a shot of her sitting by the pool in a swimsuit, a cat in her lap. The animal was "so they know I'm caring."
Husband number three wasn't a chance meeting. She choreographed a visit to a fancy beach club thanks to a divorced friend with whom she brokered a deal. "I'll help you find a husband," Mom said. "If you bring me as a guest every Sunday to your club. I'll pay the $6 guest fee and get to work for both of us." In no time, she found her target, an older wealthy widower, waiting for his "Gucci-Pucci" girlfriend outside the Ladies Room.
Later, recounting the story, she bragged about her accomplishment, exaggerating the challenges. "At 60, fat, no teeth and broke, I found a winner."
He became the love of her life. She no longer had to worry about a wayward husband or dwindling finances.
She was always aware that I'd wished for a more wholesome mother. On one trip, she knocked at my door, holding a copy of the children's story, Goodnight Moon. "It's never too late to read you a bedtime story. You got a cigarette?" Even belatedly, she wanted to make the effort.
At seventy-two, she contracted breast cancer. By the end of her first week of radiation, she knew the name, age and astrological sign of the entire radiation staff, sending them See's candy and two large flower arrangements, "Thought I'd doll up the place." At the end of her radiation, her skin itched terribly. She was tired. Still, no complaints. "You can handle anything as long as it is temporary." At her daily appointments, she brightened the other patients in the waiting room. One young man with a brain tumor she touched each time she passed him asking how he was doing. His father told her later that she gave his son hope. "No one but you ever touched him."
At age ninety-one, my mother passed away peacefully in the early morning hours, once so alive, now gone. No apron. No carpool. No breakfast. No bedtime.
Today is May 1st and there's no call from Mom. As much as I bristled at her bawdiness, I miss it. I miss her, this Mother Figure of mine, so flawed, yet, so perfect.
I go the bedroom window, opening it wider and look up at the sky. "Hurrah! Hurrah! It's the 1st of May. Outdoor sex starts today," I call out for all to hear.
---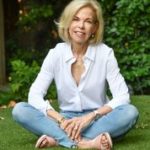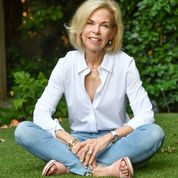 Heather Haldeman is the author of Kids and Cocktails Don't Mix: A Memoir. She has been published in The Christian Science Monitor, Chicken Soup for the Soul, Mom Egg Review and numerous online journals. She has received first, second and third prizes for her essays. She can be reached at Heatherhaldeman.com