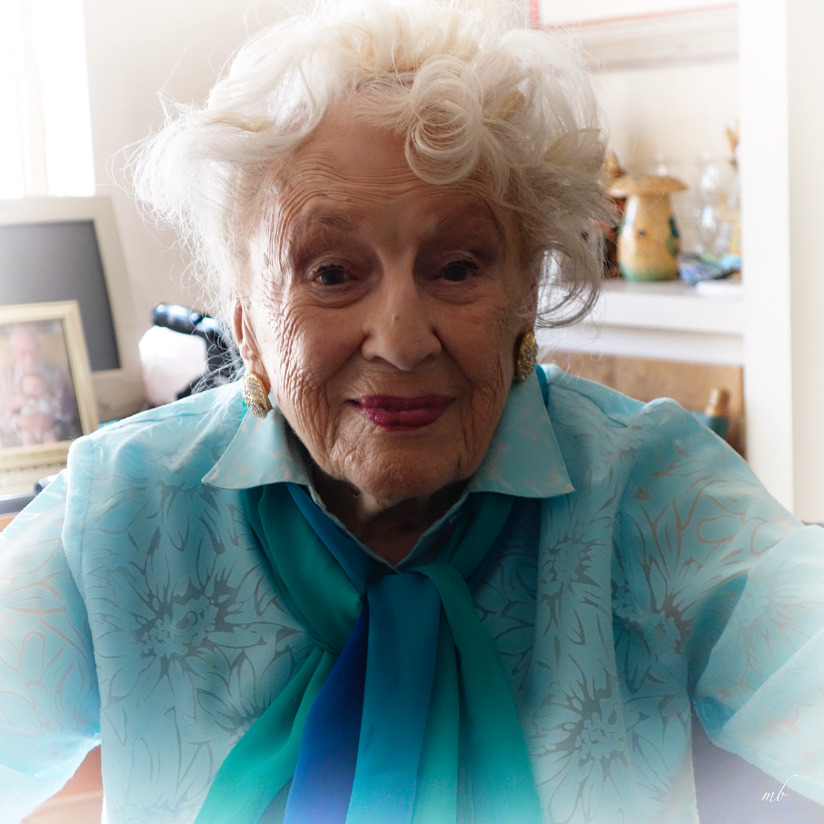 Margo Berdeshevsky
SHE WASN'T QUITE MY MOTHER…BUT…
I
She wasn't quite my mother.
My elder "mother figure" friend would have been 110 years young this May 10. These dark-lit, unlit days we have been led by those who have no such thing as empathy. None ever taught them, mothers leaked no milk of human kindness from their breasts. I think of one who taught me after my own mother had long ago died, one who kept teaching me as I aged but was still her younger friend, one who wanted and needed to make sure that I was going to be, even in my middle age and her old age, a woman who would still learn and hold some things essential and holy. She would have been 110 this before-the-full-May-moon day. I haven't forgotten. How at 103, she'd reached for my hands with something to say. "When I was a small child, very small, I saw a little boy bleeding profusely, his knees were gashed and the blood pooled around him and he was crying. I understood that he was crying because he was hurt badly, and then suddenly, I knew that if I was gashed and bleeding. I would hurt and I would cry just the same as he was. Empathy. Not sympathy. I felt what he felt." She didn't ask if I understood. That day danced and dipped like her tangos. She could still tango. … Like my memory of her now that she's danced away. Her high backward kicks are shadows, all the way through the tunnels of light. Happy birthday, Belochka. Remembering, for a May 10th day to remember you again, to remember and yearn for what my country has been murdering in so many souls. Empathy. And maybe, how to tango…
II
She wasn't quite my mother…but…
The wrist and the leg are the test: flexible,
her first lover the tango-ist taught her, kick, and dip
to tango, twist, spin, wear your golden bracelets
loose, let them jangle, dive backwards and smile, Belochka!
She gave me just one bracelet, once, kept the rest, seductress
in red, Never be afraid, she grinned, I have all my own teeth
she said, I'll tango at a hundred-and-one, and she did. See my bite-the-bullet teeth?
she said. Teach me, I begged, to age, I know I'm young, and in-flexible.
Her maquillage took from nine to noon daily. Each hour, the seductress,
were you ever not my mother, Belochka? Your grip on my wrist, don't slip, but dip
and Be happy, Darogaya, promise me! Beauty is the easier promise … Belochka …
were you ever not happy? Too many compromises in a life … but wear bracelets,
 
my Darogaya. I'm old … I'm too old … Her gold was a song of thin shivering bracelets,
jangling. Her promise: I'll live to a hundred and four, I'll hang on by my teeth …
But it was time… Won't lie down… No meeting a death horizontally… Not Belochka.
No compromise. Not this time. Would not be seen like this. Not flexible.
Turned, and spun to a mask and to bone. A kick, and a dip,
dressed in red and in silk, vertical——five nights and their days——their seductress.
No lying down, up-right in her seat, my instructress.
On the last day she screamed the bats! and the bats! and my bracelets!
And No more, won't lie down and can't tango —— At six-o-one, a dip
as the sun crept red over the 21st balcony, its teeth
sharp over Manhattan spires, high above an avenue of elegant women, inflexible …
she wouldn't leave her straight backed seat. It held a frightened, fighting Belochka.
One gold bangle for every lover——la Belochka
wore before, and after——never not——a seductress,
nine to noon for maquillage——What is it to be flexible
for a woman of a hundred wiles and bracelets?
Face front, all will and teeth,
when the hour lowered, when the sun dipped
stars, in the end, like days——dip,
can't stop the falls of fighters, Belochka .
What shining mask has all its own teeth?
There's no deal, for a seductress.
Up-right, and not fallen——a myth of thin gold bracelets.
The wrist and the leg long for just a moment longer—— to be flexible.
Her grin. Her teeth. Torn wing. Seductress.
Afraid of night's fist, and dip. Late afternoon, Belochka.
Bracelets are no armor for wings. Is a folded wing flexible?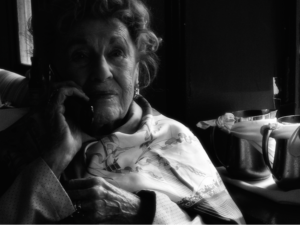 —My mother told me that I wasn't afraid of the dark —W.S. Merwin—
---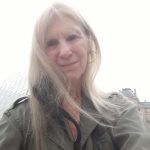 Margo Berdeshevsky, NYC born, writes in Paris. Books include: Before The Drought /Glass-Lyre-Press/ finalist-National-Poetry-Series. Forthcoming: It Is Still Beautiful To Hear The Heart Beat / Salmon-Poetry, + Kneel Said the Night (a hybrid book in half-notes/ Sundress-Publications. Author too of: Between Soul & Stone and But a Passage in Wilderness/Sheep-Meadow-Press, and Beautiful Soon Enough/ FC2/recipient of first Ronald Sukenick Innovative Fiction Award. Honors include Robert H. Winner Award-Poetry Society of America. For more: kindly see website: http://margoberdeshevsky.com