Cheryl J. Fish
I Never Had A Daughter
I never had a daughter
who play-acted feelings she could not articulate,
a busted doll in hand.
Who wrote poems and      scored goals.
Who asked, "mother, who was your first love?
Who was your third?"
I never had a daughter who
flipped     tangled hair
outside    texting among six friends
Spooning ice cream into their firm, fool mouths.
One friend spoke too frankly              so my girl cried.
Then she blindsided
My every try               every tale of recounting
mother's     old ordeals.
I never had a daughter
of charm or dismay.
Rebellious       clingy
After snapping and snarling
she'd hug me round the knees.
To have raised       a child on one's own
a fever pitch of
errors and trials begun at age 40.
So my only son,          he never had
A sister.
Iceland 5 (Blanks)
What can I say about those who leave behind no books?
My father kept no journals.
No collection of letters or the latest in technological communiques.
No reflections, or artwork. Only photos, a few collectibles like
stamps and coins. His World War II medal of honor came
many, many years after the war. His investments live on as benefits.
Friends and family know his stories, but those peers are gone.
Cultures leave
behind origin tales even if we don't know who wrote them
like Icelandic sagas,
West African griot songs.
My son does not ask what I write about, or read my books.
Those records of spark and sprawl, old time magic
in the region of my mind.
He has just opened a door to what's missing in his origin
tale.
My words shoot blanks through his intentions.
---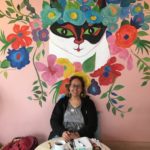 Cheryl J. Fish is the author of Crater & Tower, poems reflecting on trauma and ecology after the Mount St. Helens Volcanic eruption and the terrorist attack of 9/11/01.  The Sauna Is Full Of Maids, poems and photographs celebrating Finnish sauna culture and friendship is out from Shanti Arts. Her debut novel, Off The Yoga Mat will be published in 2022 by Livingston Press. Fish has been Fulbright professor in Finland, and she teaches at BMCC/City University of New York.