Anne Elezabeth Pluto
Mother to Remember
For MKS
Your yahrzeit will arrive
on the 20th of Av, 5780
Dog day August – 8th month – 10th day
the Magus twirling the yikzor flame into silver tracks
I haven't been back to Brooklyn since
before we knew the pandemic would
take us all under that didn't kill
you fell on the emerald carpet staircase
hemorrhagic stroke
then husband, housekeeper, doctor neighbor –
911 – sirens rush to Maimonides – you
never woke up by the third day
It was decided – they came in pairs and said goodbye.
I wasn't there – joined the funeral by Zoom
reduced to the broken angry girl whose
life you saved in 11th grade – I didn't get
to say goodbye –no photograph remains
I saved your letters –
spider penmanship and blood maroon ink –
You were: my favorite teacher –
who lived in: my favorite house – on my favorite street
the subway stops recede on the BMT tracks
the silver train pulls out of the station this is
no longer home – all is memory and
distance – all is love and love and
love.
---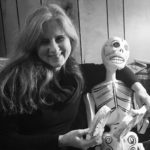 Anne Elezabeth Pluto grew up in Brooklyn, NY before it was cool. She is Professor of Literature and Theatre at Lesley University in Cambridge, MA where she is the artistic director of the Oxford Street Players. Her latest book is The Deepest Part of Dark, Unlikely Stories Press, NOLA.