Welcome to the June 2021 MER VOX:
Ekphrastic Challenge & Other Poems
For this VOX, we've curated a folio of poems that engage with or echo Keisha-Gaye Anderson's evocative work of art titled "Escape." We loved Anderson's use of colors and her imagery that depicted an expansion of "the mother," both physically and metaphorically. To where does she escape? From what? Who is she? Where is she going?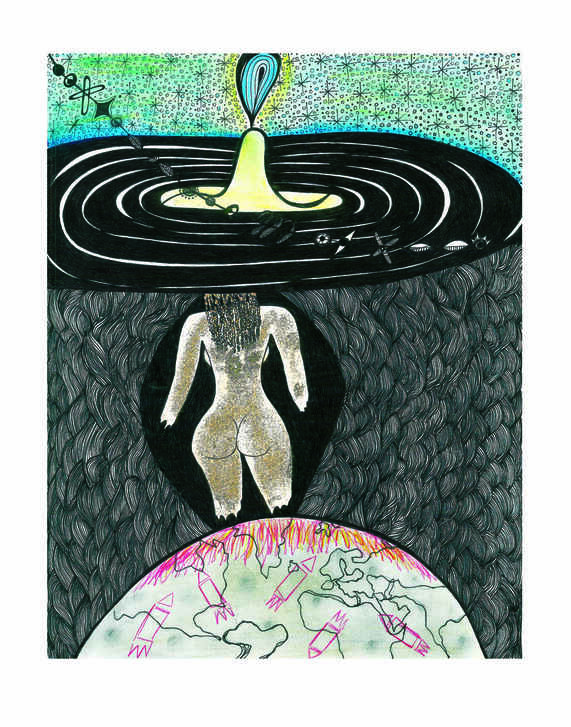 The poems—some written as ekphrastic responses to the painting and others chosen because we felt they added different dimensions—all interact with the movements in Anderson's work.
Dawn Terpstra describes the figure as:
A mother drowning in her own
amniotic fluid
floats
in a space].
In Sonya Schneider's, "May," the mother "sighing she stepped/into a hot tub." The ripples may be warm water or, "floating experiments/of sound," as in Martha Silano's dream-like, "With Headphones Blaring, I Devotional Warrior."
Anderson's art demands our admiration, and while some of the poems respond as prayer or paean, the overall sense is a physicality: the sky is calling, but the pull of the earth is magnetic. Martina McGowan's "Earth Mother" calls this figure "Holy surface walker/Life-bearer/Life-bringer" and vows, "when this earth passes into nothingness/I too shall return to my home/The stars."  Jericho Hockett's "Night Shift (the Wheel of Fortune tarot)" revels in this opposition when she promises to "Awake, refreshed, starlight/adorning your path/in rose moss . . ." Sarah Dickinson Snyder also emphasizes this calling in "It May Be Up to Us," with a poem that begins in the "bruised earth," but feels "the pull from the stars."
This is a multi-sensory art piece, using colors to guide our vision to the Earth, to the mother, to the sky. Helen Bournas-Ney's "Because" begins with color—"cream, light browns/and maybe, occasionally—briefly, lilac," but ends with taste, "vanilla, mango and wasabi." So, too, does Gabby Gillian tease us with color and taste, "speckled like Cerillos turquoise . . . and dripping milk."
The poems in this folio utilize sound and language to create another facet to the experience of Keisha-Gaye Anderson's "Escape," using the space on the page, the music of the words, and the rhythms of poetic syntax. We hope you engage as richly as we did with Keisha's stirring work. It is our pleasure and honor to present the work of the following poets:
Ekphrastic Challenge
Gabby Gilliam
Martina McGowan
Sarah Dickenson Snyder
Dawn Terpstra
Other Curated Poems
Jericho Hocket
Helen Bournas-Ney
Sonya Schneider
Martha Silano
Thank you for the time you spend with this folio,
Jennifer Martelli and Cindy Veach
---
About the Artist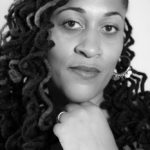 Keisha-Gaye Anderson is a Jamaican-born poet, author, and visual artist based in Brooklyn whose books include A Spell for Living, Everything Is Necessary, and Gathering the Waters. She is a past participant of the VONA Voices and Callaloo writing workshops, and holds an MFA in fiction from The City College, CUNY.  in 2018, Keisha was selected as a Brooklyn Public Library Artist in Residence. Most recently, she was presented with the Poetic Icon Award by her alma mater, Syracuse University. Learn more about Keisha's published works and art at www.keishagaye.ink.