Erin McGuff-Pennington
She Knew
Nowadays all it takes is Call the Midwife, one glass of wine, and I'm an overflowing tub of emotions, soupy water sloshing over the sides. I doubt there's an end to it—other than the very end—but it's clear Week 13 was the start.
"Your baby's the size of a lemon!" the app cheered on Sunday. On Monday, an ultrasound. The doctor was grim.
"Abnormal," she frowned, slipping into the room. She pumped Purell, squinted at the screen. "But sixty percent chance the fetus survives and it's nothing."
She might as well have dangled me off a bridge. Yesterday our baby was a sunny little lemon.
I concentrated on math, my husband's hand on my spine.
"Abnormal, like how?"
"Chromosomally." She sized me up. There were thousands of potential abnormalities, she said. There was also a test. She shook off my concern. "Slight risk to the fetus." Would we like to speak to a genetic counselor before deciding?
The doctor inserted a foot-long needle into my uterus. My husband says I have a high pain tolerance. Guess I was off my game. I moaned as she pierced my stomach once, twice, third time's a charm. Our eyes stuck to the screen; the needle poked and prodded my placenta. My baby's placenta. I watched the tiny, nascent body floating inside me, willed it to snuggle against the far side of my uterus. To hide.
An hour later, cramping, despondent, I shuffled toward the waiting room exit. Bulbous moms-to-be smiled serenely and massaged their bellies.
We drove north on Main from Texas Children's, headed for the concrete black hole known as Downtown. Those fertile oaks that bow gracefully over the avenue threatened to snap, to crush our family in its infancy.
I was afraid. For the baby, for myself. Afraid I wouldn't be a good mother to an abnormal child, afraid I was too selfish, afraid of words like special needs, sacrifice. Words that stare you down and take stock.
For three days I healed in bed and processed percentages. Sketched out scenarios, weighed sacrifices. From my computer Lord of the Rings, extended edition, played on loop. I waited for the archetypes and panoramas to reassure me.
As Frodo carried his burden to Mount Doom, I called a friend at her lake house. Mentioned the option of abortion, if the abnormalities were severe. Tried to hold it together. You know, like moms do.
"Well," she shouted from her windy dock, "I couldn't parent a kid with special needs. I feel bad but, how would that fit into my life?"
She meant well, she always does. And to be fair, I'm pro-choice to my bones. But her chit-chatting about the possibility—what she would do if it were her baby—made me want to reach through the phone and shove her off the dock.
A white-hot fire bloomed in my chest. Onscreen, the Rohirrim appeared with Gandalf at sunrise.
By the time I hung up, I'd decided. I pressed my palm where the needle had been and made a promise. "Whatever the outcome," I spoke through my hand, "I will love you fiercely, with everything I have in me." She deserved more, but it was the best I could do.
The child growing in my bruised belly was mine. If she survived, soon she'd live outside me, be at the mercy of the world. She'd grow into an adult with a life of her own. One day she would die on her own, too, like the rest of us.
But right then, nobody could get to her but through me. True, her numbers were abnormal, her placenta had been pillaged. True, she was subject to my selfishness and sorrow. Even so, she was still here, tucked into my uterus, her heart beating, her cells multiplying. In three days she'd be a nectarine.
My little nectarine. You have no choice but to have faith in me. I will have faith in you, too.
My daughter, Saoirse Lyn, was born via C-section on Christmas Eve. She was 8 pounds, 8 ounces, 21-and-a-quarter inches long. I watched—hands tied to the operating table, my bottom half slack as a slab of meat—as they raised her screaming body over the curtain that separated me from my guts and blood; as they carried her, ruddy and pugnacious, to the scale; as she clutched my husband's finger for dear life. I watched that contorted face take in the cold, fluorescent world. Watched the nurse deposit her into my quaking arms. Watched my muscles tense in fear as I imagined dropping her. Watched as they wheeled us into our room. Watched my parents see her for the first time, my mother's eyes swell at her granddaughter's middle name. Watched my brand-new baby, mewling with hunger, find my breast straight away, like she already knew—had always known—we were in this together.
I watched her nuzzle against me, fall asleep in my arms. It was as though she'd heard my promise all those months ago. It was as though she'd never doubted me to begin with.
---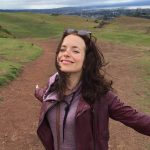 Erin McGuff-Pennington co-wrote the award-winning "American Quartet" and "Sam and Barb's School for Scandal," both narrative films set to classical music scores and produced by Filmelodic. A graduate of NYU/Tisch, Erin wrote and performed in NYC for a decade. She now writes in Texas, where she lives with her husband and daughter. Her novel-in-progress was a finalist in the Writers' League of Texas 2020 Manuscript Contest. Find her on Instagram @emcguffp and Twitter @erinmcguffpenn.