Jane Yolen
Grandlings
Between us, we have eight,
all of whom but one,
have a fall of decisions
before them.
Only one is out of school.
How ancient our own concerns
of education now seem,
new shoes, a date for the prom,
notebooks, and a pop quiz,
none of which—though it may
have felt like it at the time,
could actually kill us.
The New Mother
looks at her child,
afraid to touch him,
breathe on him,
two masks not enough.
This virus endangers
the joy of birth.
She cannot rid herself
of a terrible fear.
Death–hers, the child's–
that anvil hand on her shoulder.
Suddenly, daring all.
she puts the newborn
to her breast.
A sigh leaves her mouth,
like morning mist,
flying out through
the open window,
tugging fear with it,
and loss.
---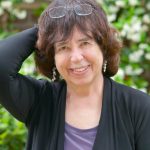 Jane Yolen is an author whose work spans adult and children's' poetry collections; adult, middle grade, and YA novels, picture books, nonfiction, historical fiction, books about writing, graphic novels, plus 10 music books, and 2 cookbooks. Her 400th book will be out in 2121. Six colleges and universities have given her honorary doctorates. Her three children and one of her grandchildren are published authors–so far.