C. Jean Blain
The Road Called Home
She knows this life is round
because she keeps coming back.
First born of the last born.
The only daughter of the only son.
She is always brown and braided.
Ten toes firmly planted
like she never left this ground.
Grandma said
a woman's place is wherever she stands.
So,
she stood.
Stood up.
Stood in.
Stood out.
Look at her-
Standing.
Our ancestors- standing.
They are asking for your voice.
Remember,
there is a road called home
and you are always her.
---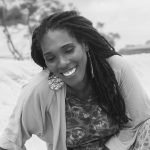 C. Jean Blain is a writer and educator, a founding member of Dubai SpeakEasy, Write Hard, an inclusive women's writing collective, and a co-curator for Cultivating Content, Craft and Conversation, a literary round table. She has received residencies and fellowships from Hedgebrook, The Watering Hole, VONA Voices, and Dream Yard. Her work can be found in Tribes Magazine, Sukoon Magazine of Arab themed art & literature, NYU Abu Dhabi's Electra Street Journal and elsewhere.