Alexandra Umlas
Sheltering with Daughters
Sometimes a shelter
is a house. Sometimes a house
is a home.
Sometimes a home is a prison.
I tell myself that you are not
missing out, that I can be friend,
teacher, mother, fence, blanket,
glass of water. For fun, I brew
your first cups of coffee, stirred
with heaping tablespoons of sugar,
tempered with milk. I ex-out
everything in March, make bread
with expired yeast, mourn
its tired, tentative half-rise.
We clean floorboards, dust
shelves, scooter through the park
every afternoon at 4:30,
the dog zagging around us,
the nature center's gates padlocked,
our one sun slipping away.
How wonderful we think.
How terrible we think.
We expect the dusk—
we have waited for it all day.
---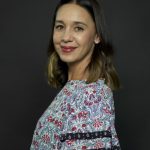 Alexandra Umlas is author of the poetry collection At the Table of the Unknown (Moon Tide Press, 2019). She holds an MFA (poetry) from CSU Long Beach and an M.Ed. in Cross-cultural Teaching.