Margo Berdeshevsky
God Bless The Child That's Got His Own
(for labor days
 poised to shatter)
My friends are losing mothers and fathers
My world is losing air
Today my father died, he says to me
My friend who climbs from the sea
I say that every day, he says,
Today my father died,
But he keeps living and hanging
And I am remembering all the things I never wanted to hold
He says —  you will let go he will let go the branch when he is
Ready I nod, yes, he says, climbing the hill from the sea
Where he has gone to wash distance and salt before it comes —
She is fading, she says,
Of her mother who is fragile as spider spun glass
She says there is a Filipina glass doll, in her soul, poised to shatter
She says —  and I nod, my friend who had all my babies for me
When I wanted none
My friend who family-ed me when I had none
My own mother and father long dead to
Leave me daughter of none and skies lone as an owl at cloud-break
—  Fading, she repeats, my mother is fading she repeats
Yes I say to the girl I friend-ed when she was gluing crystal
Pieces into angels to sell at a hot Saturday table
To feed her babies
And we have cried together more than shards to glue
And lines to hiss or hum in the dark —
She sends me her lines for her fading mother
My friends are losing their mothers and their fathers
My world is losing its compasses we say
Fading, she repeats, my friend who gave up her poems
To have her babies, to midwife so many babies into
Water —  she who wants to give each a gentle birth
To replace the night, she says too often
Now you are climbing the hill from the sea, I tell him
Now you are holding her like a child, I tell her —
And now you have almost exchanged your new
Grand-babe for your mother I say to her curved spine
Her long braid that has always reached her foot soles
Her daughter-soul that is mourning before the death that
Will come when it will
An exchange, I say, you may come to see it that way I say
Some lung is holding its breath and he
Nods yes for each — it is not a swap-meet sale
But a holy bargain, you who have always made angels of crystal
And breath, I say to her fear, I who have always repeated
I am the woman who asks
How close is death how near is God
Let her go today and tomorrow I whisper,
Let him go and remember
What you must, I tell him, I tell her, I tell myself, I
Tell that God who is or is not there—prepare to
Let this one fall home when it is ready
Fragile old angel+++she will not break +++only gain air . . .
~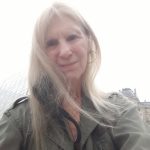 Margo Berdeshevsky:  NYC born, writes in Paris. Latest collection: Before The Drought (Glass Lyre Press/ National Poetry Series finalist.) Author as well of Between Soul & Stone and But a Passage in Wilderness (Sheep Meadow Press), Beautiful Soon Enough (1st Ronald Sukenick Innovative Fiction Award for FC2) Other honors include Robert H. Winner Award/Poetry Society of America. Published in Poetry International, New Letters, Kenyon Review, Plume, Prairie Schooner, PN Review, and many more. A hybrid book, Kneel Said The Night and new poetry collection, It Is Still Beautiful To Hear The Heart Beat, wait at the gate. More info, kindly see: http://margoberdeshevsky.com