The Return
Tara Laskowski
Our child was there, and then she wasn't. A reverse birth, if you will. She was there, and then she went back inside, back to the lava-lamp-like existence, floating, warm, head upside down and skin thin and fragile and wet. We wept and deleted our words, ashamed of the naïve happiness we had felt just days before. Friends and neighbors brought things—tomatoes, asparagus, eggplant, zucchini. They said things that were supposed to comfort—what will be will be, there is always more grass on the other side of the water, any minute now, something will happen. One said, better luck next time, and dripped spaghetti sauce on his shirt, and the older women escorted him out back.
At night my wife sat in the bathtub, talking to our girl with encouraging murmurs I didn't understand. A different language, if you will. I knew our baby only in memory, a fragmented, gasping dream of a cold fall day, tiny fat fingers, the sound of a small set of wheels running on rough concrete. We had painted the walls of her bedroom a swirling blue, like the ocean, everything wet and deep. It was from this space that she drowned.
---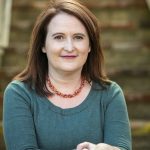 Tara Laskowski's debut novel, One Night Gone, won the Agatha Award for Best First Novel and was a finalist for the 2020 Mary Higgins Clark, Anthony, and Lefty Award. It was hailed by Tana French as "a subtly but relentlessly unsettling novel." Tara is also the author of two short story collections, was the longtime editor of SmokeLong Quarterly, and won an Agatha Award for Best Short Story in 2019. She lives in Virginia with her husband, writer Art Taylor, and their son, Dashiell.