Kim Brandon
Love On The Front Line
five patients died today
what we wrap in sheets
what is disposable now
is a battle lost for humanity
finally, the day ends
time to head home
a reprieve from war
back to normal
there is a note on my front door
in purple magic marker
"Go round the back"
my family has set up
a tent with
a green hose
a bottle of orange soap
blue mouthwash
white towels
yellow plastic flip flops
a gray sweat suit
a second note –
from my husband's hand
"We need you to sleep in the basement. Max is wheezing"
In the basement on a tray
at the top of the stairs
hot soup
chocolates
fresh cut flowers
my favorite leopard pajamas
on the sectional sofa
a little pile of pillows
and a blanket
and a third note
in pink crayon with heart stickers
"Turn on the laptop, Mommy"
I open it, turn it on
there is my husband
"Hi Baby" tears are in his smile
the girls push in
they want screen time with mommy too
"We are going to love you mommy from upstairs"
they sing-song together
"Okay mommy?" the little one adds
with a rattle and a wheeze in her voice
I sleep with the laptop on
listening to the sounds of them.
A Child with Onyx Eyes
You want to tell the fledgling empath
Her small back bent with
The weight of sorrow and human suffering
You tell her to give back this ill-advised gift
Turn it off until the death rates drop
Douse it with Hennessy or white lightning in jelly jars
You wonder if maybe she is too young
To start swimming in booze
You have no other advice or tonic to offer
You wake in the middle of the night
Her bed is empty, she is gone
The back door wide open
You see her there in the garden
Beside a hydrangea bush
Looking more like a lotus than your little girl
You reach for her
She ignites a beam of light
It flutters then grows solid
You feel the heat of power
There are others like her
They appear to be fireflies and shooting stars
You call this warming glow –
Hope
The black-eyed girls light the night
At the peak of darkness
Honor Them
Slipped into a bottle
This downpour of rain
This southerly buster of wind
Witnesses this offering
Of good tidings
A masquerade
A 7 pm bell chiming
Pots banging to expendable heroes
That have begged
This same country
To shuffle all the cards
And stop palming the Aces
---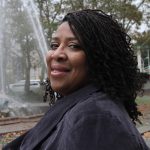 Kim Brandon is a Poet/Artist/Activist. Her work was included in three 50IN50 stage performances, Emotive Fruition's Came Back with A Clap Back, The Dream Catcher's Song, the Hawaii Review, and the Peregrine Journal. She was presented a citation for community service in Brooklyn. Kim is completing her first poetry collection.