K.T. Landon
Who Are We in Heaven
if we are perfect, our past a meadow
burning in our wake? Who are you,
mother, if not disappointed by me?
Who am I without my self-righteous
superiority? After the fire
a different forest rises. Imagine,
after so much history, to meet,
unarmored. Could we bear to know
how much we loved each other?
---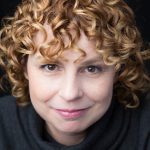 K.T. Landon is the author of Orange, Dreaming (Five Oaks Press, 2017).  She was a finalist in Narrative's Ninth Annual Poetry Contest and her work has appeared in Passages North, Tinderbox Poetry Review, and Best New Poets 2017. She serves as a senior poetry reader for Muzzle.