By Ana C.H. Silva
One of my poetry mothers, Sharon Dolin, once gently challenged me, "Who are you reading right now?" I appreciated what she was really saying: to be a good writer, you need to be a great reader. I stuttered at first, but then, from my heart, the list began; the poems that made me feel less alone, the collections that held onto the mystery but affirmed the scraps of my understanding of the world. The ones that made me catch my breath, or breath more easily. Every poet has a legacy she draws from, essential and overlapping with the poetry communities she frequents. I have the honor here to spotlight one such connection, between Mariahadessa Ekere Tallie and Arielle Benjamin, a junior at The Spence School in Manhattan, a proud woman from The Bronx, and a crucial part of Ekere's legacy.
Arielle, at the start of her poetry collection orients us:
This poetry series is inspired by Mariahadessa Ekere Tallie's poetry book, Strut, specifically a poem of hers called "Paper Bag Poems." I found it very interesting how Tallie took the historical significance of Paper Bag tests and used it to write a poem analyzing her poetry style, saying that her poems wouldn't be able to pass a paper bag test. This illustrates that her poetry is highly reflective of her identity as a black woman. In honor of Mariahadessa Ekere Tallie's poem, I titled my series Paper Bag Poems and used the series as a way to explore my black American experience along with "THE Black American experience." All of my poems connect to being black and what that can mean. For example, my poem "The Stomach of the Prison" takes a look at the role that mass incarceration has on black men in America through personification and sound. Along with mass incarceration, I wrote about mental health, my black West Indian-American identity, the Bronx, and so much more.
I knew I was in for a ride, and each gem-like poem, reverberating with political commentary, personal passion, and cultural pride, astounded me. I loved being able to show Benjamin's collection to Tallie.
Tallie herself calls to Ntozake Shange, Lucille Clifton, and Sonia Sanchez as her poetry foremothers, and thanks Arielle for listening deeply, for being reached and touched by Strut.  She mused, "Her poem reminds me of one of my favorite writers, Willie Perdomo."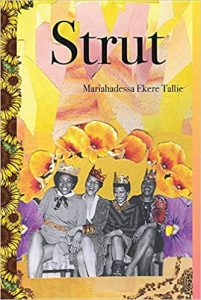 Mariahadessa Ekere Tallie
Paper Bag Poems
"These poets use being black to write about larger subjects." Charles Rowell
Fulla field hollers,
rifles, unrefined
liquor,
my poems can't pass
paper bag tests.
Blueprints for surviving
architecture of grief.
There is nothing larger
than the night sky
of our blood.
Broken bones of teardrops,
three generations of raw
throated women.
Fists rising from these pages.
From Strut by Mariahadessa Ekere Tallie, Agape Editions 2018.
Arielle Benjamin
summer in the concrete jungle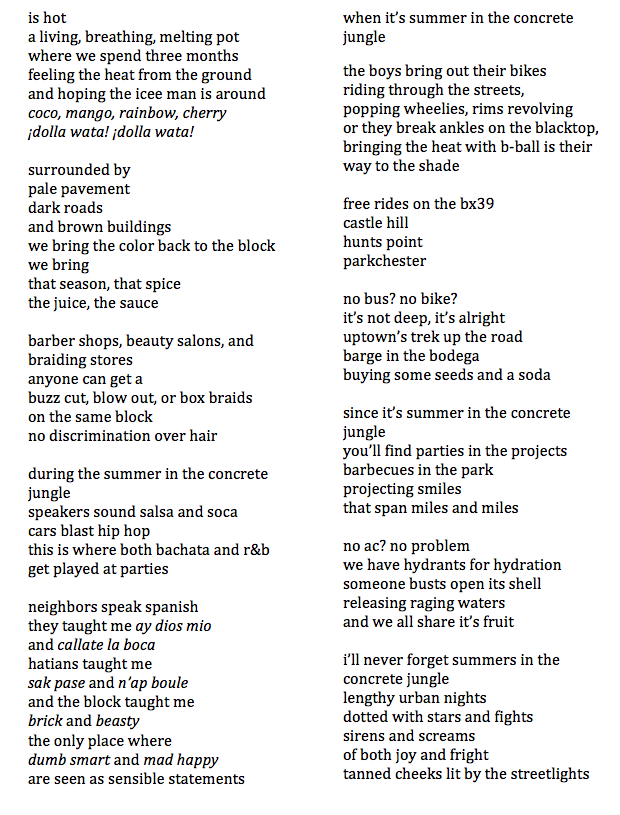 May we all read like Arielle, in a way that sparks our passions and sets us free. May we honor our poetry mothers who need us as urgently as we need them.
---
Mariahadessa Ekere Tallie is the author of Layla's Happiness (Enchanted Lion Books), Strut (Agape Editions), Dear Continuum: Letters to a Poet Crafting Liberation (Grand Concourse Press) and Karma's Footsteps (Flipped Eye). She has performed poetry & taught in the United States, Namibia, The Netherlands, Belgium, & England. Her work is the subject of the film "I Leave My Colors Everywhere." Ekere is the mother of three galaxies who look like daughters.
Arielle Benjamin is a NYC high school student from the Bronx, New York. She started writing poetry in middle school, and has made it into a hobby after taking a high school poetry class where she got the opportunity to analyze poetry, learn about craft, and sharpen her poetic writing skills.