Joanna Bettelheim
Our Ex, Carol
My father married my mother, whose name is Carolyn. After they divorced, he dated Carol.
My mother bought a house in an adjacent neighborhood, keeping me in the same school district. My new bedroom had been a family room; the washer and dryer rumbled in the closet while I slept. We tried to move our cats, Jack and Jill, but Jack was too stubborn ("too stupid" according to my mom) to make it stick, finding his way home over and over again for a month before our neighbors agreed to adopt him.
My dad transitioned to a one-bedroom apartment nearby. I slept in the living room, but all I remember from that time is the thrill of unfettered access to Nickelodeon. When he did buy a new house, it was the one Carol built with her first husband, about half an hour away. They moved in together. It never felt like mine, my room littered with Barbies and Legos from moving boxes that had become time capsules, the kitchen counters tiled rather than flat, the lights controlled by one of my dad's inscrutable systems with dimmer switches and numbers corresponding to various rooms. There were never fewer than six remotes required to watch TV.
My mom took the opposite approach to dating, always had friends, never boyfriends. It was up to me to read the signals, deduce their relationships, and when they ended. They said hello when they came over to visit, and I sullenly responded.
Perhaps if the Spice Girls hadn't given me such an overinflated enthusiasm and belief in girl power, Carol's apathy towards me would have stung a bit less.
When summers of Texan drought are followed by autumnal downpours, roads disappear under improvised rivers; usually once a year. The rain began early that Halloween weekend as a drizzle; it wouldn't stop. I was too old to trick or treat and had no plans with friends, so I tagged along with my dad and Carol to a party her sister was hosting two hours away.
Mixing with the increasingly inebriated adults left me agitated, but Disney's Robin Hood in the kid's room was a mind-numbing banishment. We could stay over for the night, a witch whose black hat drooped rather than pointed assured us. I told my dad I wanted to go home. Rain continued to drop steadily in the dark as I crawled into the backseat.
Thirty minutes into the journey on the highway, Carol ripped her seat belt out of its buckle in an angry panic, lurching towards the door handle.
"I don't want to survive!"
I huddled against the window and stared as the water streaked across the glass. The rain was falling faster than the car was moving forward. I didn't dare look back up at the passenger seat.
"I've been in two car accidents already, I don't want to live through another!"
I can't remember anything my dad said to try and calm her. But his temperament remained as steady as the Caravan's pace through this relentless puddle until I finally reach my bed.
After Carol came Carrie. Then, inexplicably, Pam. My stepmother's name is Carolyn.
The house had always been eccentric, not to say irrational. When my dad began installing hardwood flooring, the turquoise cut pile nylon fibers in my bedroom had become splotched with bleach, or matted with fabric paint from Carrie's three-year-old unmonitored play time. As we pulled it up, we found carpet staples strewn carelessly underneath. Carol's legacy remains, despite the full remodel done since on the kitchen, living, and dining rooms. Like the scorpions that can sometimes be found crawling through the air ducts, her legacy can still sting me at the most unexpected times.
---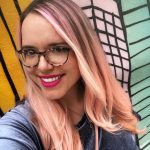 Joanna Bettelheim is currently living in New York City and recently received her MFA in Writing from Sarah Lawrence College. Her work has previously appeared in Under the Gum Tree, Exposition Review's Flash 405 (http://expositionreview.com/2017/07/flash-405-june-2017-nemesis-winners/) Breadcrumbs Magazine (http://breadcrumbsmag.com/blog/326), and no. 2 magazine (https://no2mag.com/corsepose). Her calico cat Moonpie is her most loyal reader/editor. She can be found on Twitter and Instagram @thewelllostmind.