Veronica Kornberg
A Daughter Leaves Home
You're moving clear
across the country, your first
real job, with no idea even how
to sew on a button. Last of the packing
done, and you hold out a black wool jacket,
the one we found together
in the designer section at Goodwill.
You make those pretty-please eyes
and my heart pricks—what else
have I neglected to teach you?
But with only a few minutes before you leave
for the airport, it's not the moment to say
If a powerful older man shows an intense personal interest…
If the subway entrance lights are out…
I reach for the button box, that tin reliquary
of jewel-tones—twenty garnet
organza-covered shank buttons saved
from your prom dress, vegetable ivories from Peru
where every shop keeper pinched
your child-plump cheeks, basket-weave
leathers, antique brass—all sifting like sea glass.
One thing that's true: I'm happy
to perform this last small act for you.
I choose a circle of polished horn,
lick thumb and finger,
roll the thread to knot it tight.
No one ever taught me how
to sew a button, either.
Autodidact of the needling ranks,
I poked and bled, snipped and fixed
until my buttons held and a messy row of
thread-nests dotted the backside.
Perhaps this is the only way to learn
though I hope you'll simply watch a video
and sew your first one perfectly.
We sit together on the bed, these last
moments while I line up the hole,
pierce the fabric with a diamond-point needle,
and pull it through and through again until
a black X marks the center.
I hold it out for you to fold, to place
in your carry-on.
I can see it's good to go, good enough
for a thousand fastenings,
a thousand unfastenings.
---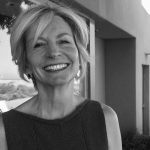 Veronica Kornberg is a poet based in Pescadero, on the Central Coast of California. Recipient of the 2018 Morton Marcus Poetry Prize, recent work has appeared or is forthcoming in Spillway, Tar River Poetry, Salamander, Crab Creek Review, Catamaran, Beloit Poetry Journal, Meridian, New Ohio Review, and Swwim Every Day, among other journals. veronicakornberg.com