Courtney Kessel – "In Balance With" and Other Works
Courtney Kessel's inventive collaborative works with her daughter Chloe use Kessel's initial script or score, but rely on each performer's interpretations and contributions. She notes, "I guess the best way to describe the work as collaborative is that it mimics our relationship and grows and changes accordingly." Kessel reflects, "I enjoy giving her agency in the work and seeing where that goes." In Making Up, her daughter had about an hour to select Kessel's outfit and do her hair and make-up. Chloe has chosen to participate in each of their collaborations, and Courtney is sensitive to her needs within their collaborations. For instance, she remembers, "I loved the way In Balance With unfolded in that I didn't know how the first performance would end. It wasn't until we were both in mid-air balancing that I asked Chloe if she wanted to come down. At age 5, she said, "no, I'm fine." I realized there that the piece was over when she was ready or rather, no longer interested in what she's doing while on the seesaw. This became a great metaphor for motherhood. No matter what one is doing in the house, at work or in the studio, if a child is in need, there is an interruption that can only be resolved by giving your attention to them." In Courtney Kessel's words, "Motherhood is choosing to care for another person and making sure they have food, shelter, education, and love. I think it is assisting another person in becoming a citizen of the world; to be empathic, caring, generous and grateful."–Ana C.H. Silva
you and me and
Watch a video of Courtney Kessel's work, "you and me and"
Making Up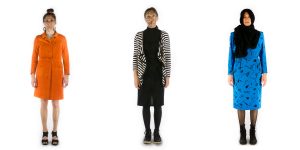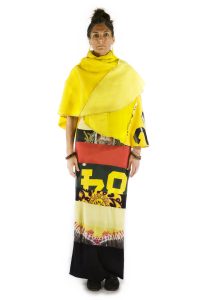 In Balance With
In Balance With, 2010 – ongoing, performance (2010), in this semi-annual performance, an empty seesaw is slowly filled with items from home that paint an annual portrait of my daughter and my life together. Approx. 30-minutes.
Fabric of Life
Fabric of Life I, 2017, floor to ceiling weaving of household objects, 12' x 11' x 2'
---
Courtney Kessel lectures and exhibits her work internationally. Through sculpture, photography, performance, video, and sound, her work strives to make visible the quiet, understated, and often unseen love and labor of motherhood. She creates a space that examines the subjective maternal through a feminist lens opening a dialog between what is seen and not seen. Kessel is Director for the Art Galleries and teaches in the School of Art + Design, Ohio University, Athens, Ohio. For more info, visit http://courtneykessel.com.