Marianela Medrano
Des/arraigar
Raíz invertida quiero crecerte Madre
ascenderte de una punta hasta la otra infinita.
Preludiando voces en pasadizos callados
fijar en la memoria tu rabia sosegada.
¿Cómo será navegar la corriente amniótica
de tus tantos desgarros?
Tal vez a un descuido de mi padre plantarme semilla
crecida en raíz andarte entera al andarme.
Quiero andarte raíz, Madre
los lugares rotos que tus torpes dedos zurcen.
Yo, hija extravagante que al futuro engancha su navío
me anclo en tí.
A mi entraña profunda un recuerdo tangible se pega.
Madre, tú y yo hemos crecido
exiliadas en latente soledad de multitudes.
Solas en el desamor del éxodo
en este ir sin movimientos.
Casi no nos vemos en el abrazo
sin embargo vuelvo
siempre he de volver.
¿Cómo será crecerme en tí Madre?
En el ángulo de tus piernas beber el líquido
que la pasión de mi padre derramó.
¿Cómo será verte desde dentro hasta afuera
andarte la rabia extraviada en sonrisa pasiva?
Quiero extenderme dentro, Madre
raíz invertida partiendo silencios
crecernos árboles de naturaleza fuerte.
¿Cómo será crecernos juntas?
Originalmente publicado como "La que vuelve"
Rooting
I want to grow inside you, Mother, like an inverted root,
ascend you from one end to the infinite other,
rehearsing voices in silenced pathways,
fixed in my memory your contained rage.
How would it be to navigate the amniotic current of all your tears?
Perhaps, behind my father's back, plant the seed of myself
to then grow into a root and walk your whole body
while I discover me.
I want to grow in you like a root, Mother.
Touch the broken places your clumsy fingers try to mend.
I, extravagant daughter, anchoring her ship to the future,
I anchor myself onto you. A tangible memory
sticks to my deep inner being.
Mother, you and I have grown
exiled in the latent solitude of multitudes,
alone in the loveless exodus.
In this departure without movement,
barely seeing each other in the hug.
Nevertheless I come back.
I will always come back.
How would it be to grow myself inside of you, Mother,
in the angle of your legs drink the liquid
my father's passion spilled?
How would it be to watch me turning into cells
until my being takes form?
How would it be to see you from the inside out,
walk the rage lost in your passive smile?
I want to extend myself inside you, Mother,
inverted root, breaking silences,
watch ourselves grow into trees of strong nature.
How would it be to grow together?
Translated by the author and Reggie Marra
Originally published as "Coming Back"
De modo que
Madre, no he preguntado
Cómo me lanzaste al mundo.
—Naomi Ayala
Nos sorprendimos lejos
extremo a extremo del planeta.
Caricaturas de personajes extraños.
Sin miramientos la historia nos desnudó.
Niña escualida temblaba yo de frío.
Mujer de mil partos, moría de rabia mi madre.
¿Muerte natural la de ambas?
Acaso.
So That
Mother, I have not asked
How you splintered me off into the world.
—Naomi Ayala
Apart, we found each other,
extreme opposites on the planets,
caricatures of strange characters.
Without pity,
history undressed us.
Fragile child, I trembled with cold.
Woman of a thousand labors,
my mother died from rage.
Did we die of natural causes?
Perhaps.
"De modo que / So That" and "Des/arraigar / Rooting" were published by Owlfeather Collective (2017) in the bilingual collection Rooting: Selected Poems.
Both poems were translated by the author and Reggie Marra.
---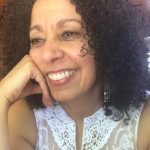 Marianela Medrano is a Dominican writer, poet and a psychotherapist with a Ph.D in psychology. Her publications include: Oficio de Vivir (Buho,1986), Los Alegres Ojos de la Tristeza (Buho,1987), Regando Esencias/ The Scent of Waiting (Alcance,1998), Curada de Espantos (Torremozas, 2002), Diosas de la Yuca, (Torremozas, 2011), Prietica (Alfaguara, 2013), Rooting (Owlfeather Collective, 2017), and El Libro de Revelaciones (chapbook, 2019). Her poetry has been translated into Italian and French.