Interview, Poetry and Artwork featuring Keisha-Gaye Anderson
Folio curated by JP Howard for Mom Egg Review VOX Online
JP –  Congratulations on your new books! I know that Everything is Necessary has just been published by Willow Books and your other collection, A Spell for Living, is forthcoming from Agape Editions. Tell us about the process for writing each book and the process leading up to publication for both.
Keisha-Gaye – I'm quite excited to have both of these books coming out within the same calendar year. In terms of the process, I would say that the books emerged out of my regular writing process, or daily creative practice. Whether it's poetry, fiction, or visual art, I commit each morning to working on something. So when I stepped back after a year or so to consolidate and review what I'd written, I noticed two distinct themes emerging in the poems: wisdom through perseverance, and an arrival at a knowing that dreams can be manifested when one really makes a firm decision to manifest them. My artwork seemed to match well with the poems that dealt with dreaming big and turning inspiration into something more concrete. Luckly, the editors at Agape Editions thought so too! The manuscript won the Editors' Choice recognition of the Numinous Orisions Literary Origins literary competition. You can find more information about all of my books and my art, and also sign up for my monthly newsletter, at keishagaye.ink, Facebook (facebook.com/keishagayeanderson), Twitter (@keishagaye1), or Instagram (@keishagayeanderson).
JP –  I know you are an extremely talented visual artist, as well. Give us a sense of how you combine both your work as a poet and a visual artist? Advice to parent/artists working in multiple genres / mediums?
Keisha-Gaye – You know, I always tell people that I am a multi-genre storyteller. The stories I have to tell may be most potent as poems or fiction or visual art. I want to utilize the best possible medium to say what I want to say, so that people can fully understand it. The poems start as a phrase in my head. With fiction, I hear dialogue. And when I'm drawing, I usually don't have a particular 'thing' in mind; it's more of a mood where I feel like drawing, usually while listening to music. My advice to those working in multiple mediums is to think in terms of creating a series or collection, whether with poems or visual art. And for the parents out there, or honestly, just anyone: Give yourself the morning! Even if it's only 30 minutes. Get up and work on whatever you're working on before you begin to give your energy to everything else that relies on you, whether that be your children, your job, or anything else.
JP – What are some of the biggest challenges that come from working f/t, parenting, being partnered/married, while also consistently producing new creative work?
Keisha-Gaye  – Oh, I have so much to say about this. The juggling act! Like most people I know in New York City, I work full-time. I'm also a wife and a parent to a teen and tween. And then there's my life as a very active artist in different mediums. The only way this life works is if these things are somewhat integrated. So, people who know me are used to seeing my children at poetry readings and art exhibitions. Or, sometimes we open our home to writing salons and reading series. The children get to experience that as well. In terms of my career, I work in higher education, and I sometimes teach creative writing or lead writing workshops. Every part of your daily life is a teacher, and a potential inspiration for your artistry.
JP – Who are your literary inspirations, either living or ancestors?
Keisha-Gaye  – I go back again and again to Lucille Clifton and Octavia Butler. Those two really stand out for me. Clear, concise, pointed, fearless writing!
JP –  As a Jamaican-born poet, I know that you often honor your rich Caribbean history in your work. Tell us why that is important and perhaps shout-out a few Caribbean poets/writers who you see as role models.
Keisha-Gaye – I love the lyricism and humor of Caribbean writers. No one tells a story like a Caribbean writer, in my opinion. Our language is so rich and musical. The first stories of my life were told to me in patois by my parents and other members of my family, so this way of storytelling is my foundation. Although many of our words may be English, the logic and syntax and rhythm behind them are almost entirely West African. As our beloved griot Louise Bennett said about how Africans enslaved in Jamaica adapted the language of their colonial masters, "When di Asian culture and di European culture buck up pon African culture in the Caribbean people…We stir dem up and blend dem to we flavor / we shake dem up and move dem to we beat / we wheel dem and we tun dem and we rock them and we sound dem and we temper dem / and laaks…di riddim sweet!" (Listen to Miss Lou here).There are so many amazing Caribbean writers. Erna Brodber, Anthony Winkler, Michelle Cliff, and Roger Mais (who was married to my grand aunt) come to mind. And contemporary writers like Kwame Dawes, Colin Channer, and Opal Palmer Adisa are just as exceptional. This list is too long to name.
---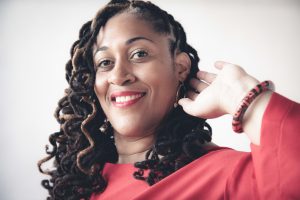 Keisha-Gaye Anderson is a Jamaican-born poet, creative writer, visual artist, educator and media strategist living in Brooklyn, NY. She is the author of the poetry collections Gathering the Waters (Jamii Publishing 2014), Everything Is Necessary (Willow Books 2019), and A Spell for Living (Agape Editions 2019), which received the Editors' Choice recognition for Agape's 2017 Numinous Orisons, Luminous Origin Literary Award. A Spell for Living is a multimedia e-book, that includes music and Keisha's original art work. She is a past participant of the VONA Voices and Callaloo writing workshops, and was short-listed for the Small Axe Literary Competition. In 2018, Keisha was named a Brooklyn Public Library Artist in Residence. Her art has been featured in exhibitions throughout the greater New York City area. Keisha is a graduate of the Syracuse University Newhouse School and holds an MFA in creative writing from The City College, CUNY.