THREE POEMS FROM REBECCA FOUST
AN AUTIST'S MOTHER REFLECTS
afraid to die
before you
but in this wild
dark New Hampshire
meadow fireflies
glow like downed pulsars
all incandescence
like your face
& no trace of errant gene
or what perished
to breed such rapture light
DIS / ABILITY
a stubborn perseveration / tenacity
to slog the 8-year path to a math degree from Cal
inflexible with routines / reliable    punctual
he never fails to make the Sunday call
lacks affect / no drama
lacks theory of mind / see empathy    below
lacks empathy / he is the one we call
to quiet the bird wild in the house    the one
who knows before anyone when I'm sad
he is the child who was able to forgive us for the world
we brought him into      the child
who became the man who stayed
DATING ADVICE
You have to look long, Love,
and more than once in the same spot
to find fruit, for what has ripened
is shy, and wants to hang a little longer
on the green vine.
You must stand for a long time
gazing into the mystery
of leaves. Sometimes you will find
nothing, but just keep looking,
unhooking your eyes from your mind.
You will seek the night-blooming cereus,
mysterious and mute, white, weighted
with scent and dew, but you
may find zinnia instead: hardy, unsubtle,
a bloom too bright and loud
and that's alright; love what you find,
looking with patience and time
even though both betray in the end;
stand and stare into anything green
for what is hidden and small,
one tawny orb, even if it's not there.
---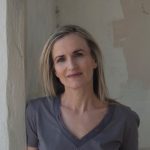 Rebecca Foust's most recent book of poetry is Paradise Drive, winner of the 2015 Press 53 Award for Poetry and reviewed in the Times Literary Supplement, Georgia Review, and Philadelphia Inquirer. Recognitions include the Cavafy Prize, the James Hearst Poetry Prize, the Constance Rooke Creative Nonfiction Award, and American Literary Review's Award for Fiction, and fellowships from MacDowell, Sewanee, and The Frost Place. She is the poet laureate of Marin County and writes a weekly column for Women's Voices for Change. rebeccafoust.com