Karen Rile
RUNNING ALONG THE SCHUYLKILL
My daughter skates faster than I will ever run.
I struggle to keep her in my line of sight
as she strokes past the boathouses.
Men my own age follow her with their eyes.
They get between us on eleven-hundred-dollar bikes–
"On your left, lady." I accelerate past the ache
bubbling in my ribs. But when the river bends
they're gone. Nobody but me on this poor stretch of gravel.
An orange swallowtail rises from the water's face,
drawn, I have read, to the salt of our sweat. Nobody but me
sees, nor adjusts her observation in the next elapsing second, when
of course, it is no butterfly, just last year's wind-tossed leaf.
The river twists again, and I see my daughter's t-shirt
flashing in the sunlight. So far away she could be anybody.
---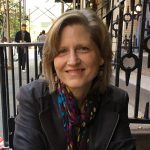 Karen Rile is the author of author of a novel, Winter Music. Her writing has appeared in journals such as The Southern Review, American Writing, Painted Bride Quarterly, Creative Nonfiction, The Tishman Review, Belmont Story Review, and others. She teaches creative writing at the University of Pennsylvania, and is the founding editor of Cleaver Magazine. She has a MFA from Bennington College.