THREE POEMS FROM ANGELA NARCISO TORRES
LILLI'S URN
Jolted awake by a flash—
a text from my college freshman
awake in his dorm at 2 a.m.
I rub sleep from my eyes,
find an audio clip
he's written for solo cello—
Lilli's Urn, he names it,
for the pup who arrived
on his sixth birthday,
his companion for a decade
before we lost her to cancer.
Four minor notes plucked
in a slow chuffing beat—
the stifled sobs of mourning.
Bow dragged over strings
a cello moans, whale
sounds from the deep. Outside,
the wet boughs of a birch
cradle a quarter moon. Rain
silvers branch tips, pavement,
the whole weeping world.
AUGUST MOON
The summer before his second
brother leaves for college
our youngest makes his bed
on the landing under the skylight
where the stairs hinge.
Soon the family will shrink
from five to three,
two sons away, one
at home. How will it be
to breathe the thinned air?
To hear the walls echo, emptied
of shadows that shimmered
with their heat, sweat, and heft?
Past midnight, I find
his crescent shape
huddled in the stairwell
a blue slip of moon
in darkness, breathing
stay
don't go
nobody leave
A version of this poem previously appeared in Pirene's Fountain. 
FOR A SON TURNING NINETEEN
By the time the black
blade clears
my windshield—
its shush-thump
the sound of blood amplified
in a doctor's scope—
the roadside aspen,
its windswept leaves spent
like so many coins,
is gone. Before I can say
the last syllable
of your name, you've bolted
through the back door,
wheels crunching gravel
like small bones.
And years ahead, when
I've emptied your drawer
of photographs, plastered
the last under cellophane,
your room will be light and dust,
books neat, shelves staggered
by their heft. Whatever
bindings you left unbroken
will stay unbroken,
what pages unturned,
remain unturned,
dagger-edged, clean.
A version of this poem appeared in Blood Orange (Willow Books, 2013)
---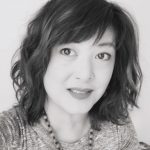 Angela Narciso Torres's poetry collection. Blood Orange, won the Willow Books Literature Award for Poetry. Her work appears in Spoon River Poetry Review, Nimrod, and Colorado Review, among other journals and anthologies. A graduate of Warren Wilson MFA Program and Harvard Graduate School of Education, she has received fellowships from Bread Loaf Writers' Conference, Illinois Arts Council, and Ragdale Foundation. New City magazine named her one of Chicago's Lit 50 in 2016. Born in Brooklyn and raised in Manila, she is a poetry editor for RHINO and a reader for New England Review. She lives in Southern California. www.angelanarcisotorres.com