J. Nicole Hill
Thanks to him
There are those sleepless nights
The long sometimes ten hour days
Always racing against time
Until we meet soon again
Picking my baby boy up from the babysitter
Exhausted but somehow energized hearing your
laugh as you play
Then come running into the kitchen as I cook
Your little arm wrapped around my leg
I kiss you on your forehead
Then back into the living room you run and play
Amazed
when you throw your carrots to the side of
your high chair
They were just his favorite the other day
Making up nursey rhymes while you bathe
And listening to you squeal with delight
Trying to put my sonshine to sleep
But sleep is his archnemeis
Lord he puts up a fight!
Running behind you in the park
Wondering how those little chunky legs got
so far so fast
That smile of yours
So beautiful
Warms my heart
Didn't think I ever would
But eternally grateful
That I am
Mother to this amazing little being
My sonshine my Ethan
Things aint perfect but everything will be okay
Single motherhood aint easy
But I feel fulfilled thanks to him.
Ethan A.J. Hill
These small but powerful mighty hands;
I can't help but.to stare and smile at my little
heavy hands
As of late a mission to put my little me to sleep
He tosses & turns in his sleep
Frustrated & fussy in his sleep
I love my mini me to infiniti
Give praises to God, the creator, what I used to
refer to as the trinity
Motherhood its all in me
Rebellion baby style it's all in my little mini me
I guess because I had it and he's so much like me
The apple doesnt far from the tree
I thank God for my blessings
grateful that he's healthy smiling such n
intelligent cutie
got me making moves to ensure I can do all
that and then some
Such a little gentleman
sometimes
But he loves when its bathtime and Mommy rhymes
Thank God every day for my gift
Ethan's Mommy now
Cant tell u the last time I sparked a spliff
Busy building
He'll want for nothing
single mommy on a mission
Work my ass off
No comission
By the time he hits five years old
My goal is to be able to afford full college tuition
---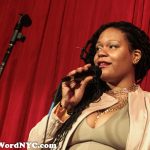 J.Nicole Hill, born in East New York, Brooklyn, discovered her passion for literature at a young age. She began writing stage plays and skits for the community's youth group as a teenager. J. Nicole has featured in multiple venues. Most recently she has performed at the Inspired Words Titillating Tongues event and Green Earth Poets Erotic Pens event. Hill is hard at work on her literary projects. Ms.Hill is also a proud Mother to her son Ethan.