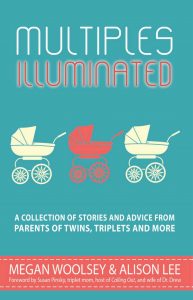 Review by Sarah W. Bartlett
Woolsey and Lee are well-qualified for this undertaking. Woolsey parents four children (one set of triplets) in Northern California and blogs at The Hip Mothership about raising multiples and general parenting topics; and is additionally widely published. So, too, is Lee, who works at home in Malaysia parenting four (one set of twins). Their combined publication list is extensive.
This collection of writings is remarkable for a number of reasons, starting with the fact that the two women live half-way around the world from one another. Yet their partnership reads like a close friendship, which offers a glimpse into the project itself. Learning that you are expecting multiples—regardless of expectation, anticipation or experience—creates an immediate bond among women. There are facets of carrying multiples that go beyond a simple more of everything. Then there are the concerns of delivery—planned or not, all the conflicting calculus of adequate gestation time vs. the human body's innate dislike of carrying a litter. And of course, the emotional/psychological toll . . . the responses of strangers, friends, family . . . and AFTER the birth itself—as if there weren't enough potential pitfalls involved—bringing them home! What strategies to use, where to find support and supplies, how to get enough rest?
The particular genius of this collection of stories is that, while serving as (excellent) guide for parents of multiples, it doubles as sheer delightful reading for anyone who has raised or is raising any number of children. As a guide, you might want to read it in stages. Thanks to editorial thoughtfulness, sections lead the reader from conception through pregnancy, labor-and-delivery, NICU and the first years. Each section offers first-hand accounts of terror and triumph, both tender and humorous; as well as practical guides from what to expect to supplies needed/how to obtain them; and offers writing prompts encouraging some much-needed me-time that doubles as legacy. Additional general resources are offered at the end. And did I mention the whimsical line drawings at the start of each section?
In reading through the book, one memorable thing I learned about is 'twin-speak,' a fabricated language that twins can create between them—and the fascinating challenges it can pose to natural language acquisition. Despite the years of concern over and attempts to intervene in the twins' persistent use of this private language, the experience shared by author Angie Kinghorn (173) resolves in a flash when the twins enter school. Peer pressure wins the day!
One story shares the over-optimistic misadventure of trying to take infant triplets to visit college colleagues (169) that illustrates in sharp relief how rapidly an innocent situation can devolve into disarray. Another provides an intimate view into the intricacies of the NICU, thanks to Alison Lee's "Navigating the NICU" (113). I couldn't stop laughing with empathy and admiration through 'All things, all at once' by Melanie Sweeney (151):
At night, the babies do not have names. We identify them in proximity to ourselves. My baby, your baby. This baby, that baby. Is your baby asleep? This baby is hungry. Our parenting strategy is man-to-man defense . . .
. . . We can trade them if one seems easier to handle than the other, but this is no guarantee. If his baby calms down first, Josh will text me from the hall to propose swapping, careful to prevent the louder baby from setting the quieter one off again. Leave her on the couch. I'll leave this one on the bed. Then we pass by quickly, flashing a look that says, Good luck . . . Success, with twins, means we stay in separate, silent spaces, alone but keeping the peace for each other. Success means we celebrate our hard-won victories of soothing a baby, by ourselves, mentally, as we shuffle-bounce-step through the darkness.
If you are drawn to the heartbreak and hilarity of protracted fertility wars and their results; pulled in by the emotional rollercoaster of juxtaposed desire and fear; curious about the ways in which multiple pregnancy, delivery and care challenge whole families—including creative solutions; or you simply enjoy good writing that lifts the spirit because it arises from and transcends the darkest places human hearts can go—this book is for you.
Conceived and delivered with wit and infinite care to detail, Multiples Illuminated offers wisdom, inspiration and a community to share it all with.
Multiples Illuminated: A collection of stories and advice from parents of twins, triplets and more
Edited by Megan Woolsey and Alison Lee
Multiples Illuminated, 2016, $12.95 [paperback] ISBN 9780996833509
---
Sarah W. Bartlett is mother, grandmother and mentor to many. Primarily a poet, she plumbs the depths of natural worlds within and without, inspired by humanity and the New England landscapes she calls home. She is founding co-director of writinginsideVT, a weekly writing program for those incarcerated in Vermont's sole women's prison, continuous since January 2010.