Stephanie Bryant Anderson
My Sons (on dead fathers, the Celestial mother & other mothers)
I.     Child #1: diagnosis,
extreme intelligence / anxiety / OCD
My son 4, said the trees are closer than the moon.
And the moon is flying in the sky. When the moon finds a
baby that it likes, it follows the baby all night. He already
knows the sound darkness makes, that space is
deceptive the way it makes you think it will hold
a body forever, or the way light, enters through
the window, feels like constellations or cloud cover
over the planet of his skin. Stars move with Spirit
& the street, clogged with leaves & rain, holds
empathy for the parts of body it can't touch,
and my boy's fatherless wild.
II.      Child #2: diagnosis,
extreme intelligence / Asperger's / anxiety
Cut from my belly, he knows the creaking
of ghosts in the kitchen—the way his other mother
used to bake cookies & live in the white house,
& his father, dead, makes messes on the counters.
He knows his other mother died in a crash on
Interstate 24. When questioned of his knowledge of other
mother, he says she came before me when he lived
with her & a dad & a younger brother. Never intending
to share my boy with another mother—my mouth,
full of air, full of space. A hole in sky.
III. Tired of borders defining us, when we want
to encounter Spirit we make sound. We call this
prayer. I am wild & scared. Sky holds hypothesis
in its clouds, & the moon/a god/ghosts enters
in silence. What enters as mother? Moon as
reverence / ghost as reverence / hearing voices as
reverence. Sky means body, Creation birth,
& a woman's body, not a rib but the equal sign.
---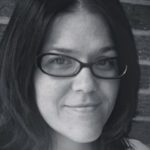 Stephanie Bryant Anderson earned her B.S. in English and Psychology from Austin Peay State University. Her poems have appeared or are forthcoming in Passages North, Birmingham Poetry Review, Mid-American Review and others. Her chapbook Monozygotic | Codependent (2015) is available from The Blue Hour Press. Currently Stephanie is completing an M.S. in Mental Health Counseling.