Sarah Browning
In Mind, Two Months
"The most spectacular thing in the world
is in my mind. That's where everything is happening."— Toni Morrison
The runny sound of baby poop.
The pull on my nipple, the yank.
Washing my hands at the bathroom sink,
breast milk dripping on my feet.
The hickey my son gave himself
sucking on his arm
when I was too sick to get up and nurse.
His drooping eyelids, the white of his eyes
as he falls asleep.
His scrotum.
The way his fist hits at my breast
while he's sucking.
Spit up like cottage cheese.
Shit like sandwich spread.
The passage of sorrow through me.
His blue eyelids, the ecstasy.
One smile.
His body's weight falling asleep
against my thighs.
Sadness again.
The blue of the whites of his eyes.
Full & Empty, 7 Months
my son
my son
my son
my son
my son
why stop
my son
my son
my son
oh, all babies, it's true
my son
my son
my son
no, not his fault
son
son
son
my
my
my
my
my
my
all this notebook
all this paper, all this
my son
my son
my son
Ben
Ben
Ben
Ben
Ben
Ben
the universe
the pavement
the leaves
the pond
the dirt
Ben
Ben
Ben
Ben
Ben
my brain
my emptiness
my fullness
my aptitude
my whatness
my wondering
my hunger
my son
my son
my son
my son
my stronger arms
my stronger back
my sagging breasts
my full breasts
oh stop, my breasts are full
oh stop, the cat wakes the baby
my son
my son
my son
whoops laundry
whoops constipation
whoops sore butt hole
whoops, oh right, the crying
did I mention the crying
Ben
Ben
Ben
Ben
Ben
the clock
the timing
the sleep
the not sleep
the open mouth turning blind into me
shirt bra
no shirt no bra
the mouth doesn't notice
more
more
Ben
Ben
Ben
Ben
Ben
anxious hippity hop
the mouth
the wide mouth
---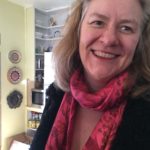 Sarah Browning is the author of Killing Summer (Sibling Rivalry) and Whiskey in the Garden of Eden (The Word Works). She is co-founder/Executive Director of Split This Rock, an Associate Fellow of the Institute for Policy Studies, and recipient of fellowships from the DC Commission on the Arts & Humanities.