Human Trafficking in the United States
Am I their mother?
They took them from me
My captors
Tore them from my arms as they emerged from my womb
My babies
One after the other
I cried after every missed period
Had 9 months to prepare for my loss
Had 9 months to dwell in my failures
This is the life I've been given
Dropped in this world that sees me only as a vessel
A dumping ground for sin and hate
But sex and drugs don't equal love
Giver of life, I am but do not call me a mother
For what is a mother with no children?
          –Alexandria Mitchell
---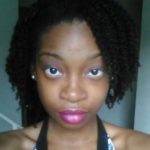 Alexandria Mitchell is a young writer from Flint, Michigan who uses poetry as a means of self-exploration and expression. Alex relocated to Brooklyn, NY in August 2016. Alex joined the Seeking Your Voice Workshop in November 2016 and has found the workshop to be both educational and peaceful as the poets discuss different writers and styles.