An Interview by J.P. Howard, MER VOX Editor-at-Large,
of Mireya Perez-Bustillo and Patsie Alicia Ifill
I've been thinking a lot about friendships between women, and in particular between women writers, and how we often sustain one another. Not only do we write together through these tumultuous political times, but we often lift each other up, hold one another accountable, are able to call each other out on our stuff, and lovingly remind our sistagurlfirends about upcoming writing deadlines. For those who are parents, we share a special bond, and no matter our child's age, we look to our friends for advice. In Lucille Clifton's poem 'won't you celebrate with me' the poet celebrates herself, a woman of color in the world. "i had no model/born in babylon/both nonwhite and woman/what did i see to be except myself?" Friends, writers and mothers, Mireya Perez-Bustillo and Patsie Alicia Ifill, share a friendship where they consistently support each other, not just as friends, but also as writers. I met them over five years ago when they first attended my monthly Women Writers in Bloom Poetry Salon series. They have become a fixture in our extended Salon family and their close friendship has been an inspiration to watch these past years, as each has pursued her own unique writing interests, yet through it all, successfully maintained a close friendship. This interview explores how they sustain that friendship and support system as writers, women and mothers.
Please describe the importance of having friendships with other women writers. Discuss your friendship with each other and what it means to each of you? Make sure to include length of your friendship, include a few anecdotes about your friendship over the years (funny, heartfelt, sad) and how friendships with a fellow writer might be different than friendships with non-writers. What does being a writer bring to your own friendship ladies?
PI– Having friendships with other writers means that I am always updated with current events/activities in the literary community. My friendship with Mireya is genuinely important. We energize each other's abilities in that we listen to one another without any preconceived notions. Mireya has taken me under her wings from the time I met her in 2000. I used to always say to my son "I wouldn't have a social life were it not for Mireya." She is a cultural phenomenon and stays abreast with current events be it in visual arts, literature, history, classical music including opera and jazz. She brings me into her fold or if I may say her sphere of enlightenment. Once I told her that my son asked me why I had never invited her to my house, she laughed and said "my daughter asked me what does Patsie's apartment looks like and I told her I don't know because I drop her around a corner somewhere." We both laugh because both our children, knowing our deep friendship, were thinking alike and it was funny. But I had always invited her. For a while, I thought that she was afraid to come. That is no longer true though.
My non-writer friends are passionate about their own interests and thus provide a good balance that eventually brings me back to writing. When I am with them there is always something to write about. They tell stories with different perspectives. Mireya evokes the best writer I have in me every day of the year.
MPB – It was at the Seminar on Caribbean Studies in the early 2000's at NYU taught by Bajan poet and historian Kamau Brathwaite that Patsie and I met. I was a fellow in the Faculty Resource Network auditing classes to develop new curricula in the Caribbean Diaspora for my courses as a tenured associate professor of Spanish at the College of New Rochelle.
Brathwaite's groundbreaking ideas on the Caribbean opened new perspectives for us as Patsie and I joined a contingent becoming immersed in his ideas and methods open to all the arts. This inspired many conversations as we rode back to Brooklyn in my car and continued when we arrived. At that time, I was holding artist gatherings in my home in Clinton Hill and I invited Patsie to read her poetry. A women writer as a friend is a treasure-trove of never-ending conversations, of observations, of seeing possibilities that become part of our writing.
I know you were both active in the Louis Reyes Rivera Writing workshop – is that where you met? Talk about that writing community and how it sustained you both.
PI – Mireya and I were already friends when we decided to attend Louis Reyes Rivera's writing workshop. We first met in 2000 at NYU where I was a student and she a visiting professor. We were both enrolled in a series of lectures in the Department of Comparative Literature taught by Professor Kamau Brathwaite world renowned Poet and Historian. Like Brathwaite, Louis was dynamic in his execution of craft as poet, teacher, historian and writer. His major strengths were the ability to transform writers into writing in multiple genres. He was a master in bringing forth your unwritten thoughts to the page. He always said "If you can't write, start with the word "the." The writing community that Louis mentored and created still exist and thrives these five years after his death.
MPB – Listening to WBAI's program "Perspectives", I learned of Louis Reyes Rivera's workshop at Sista's Place in Bed-Stuy. I was familiar with his work from my studies of Nuyorican Poets and had heard him read in El Barrio. It was a joy to discover that he was such a scholar of the Caribbean and African Diaspora and those Saturday afternoons at Sista's, four to five hours, included his lectures or history, on the intricacies of writing and the sharing of our work. Patsie and I are both Caribbean. She's from Barbados and I'm from the Caribbean coast of Colombia, so we have much history in common as part of the Caribbean Diaspora. During the years of Louis's workshops, I began to work on my novel, Back to El Dorado, a coming-of-age Latina narrative.
How have you each as writers supported one another's writing goals? Do you share or ever exchange your work with each other?
PI – Yes we shared and read at the same venues. She was the first person who told me to consider an MFA program and got me information from The Writer's Foundry MFA at St Joseph's College in Brooklyn. I applied and was accepted. I finally chose to attend The City College of New York (CUNY). She told me that it was the best choice taking my finances into consideration.
MPB – There is a constant interchange of observations about life, about art that we share which feeds into our writings. Having participated in various workshops (Louis Reyes Rivera, African Voices, Women Writers in Bloom) we are quite familiar with each other's works.
Each of you has accomplished a lot in the years that I've known you. Can you talk about the various paths you have taken as writers, including your accomplishments and also any challenges – Patsie talking about decision to go back to school after many years out and get your MFA, getting your MFA and now as an MFA alum discuss your goals and what you are currently working on that supports your goals as a writer. Mireya you have completed your novel and you also teach – perhaps discuss the path that led you to both teaching and the novel. What's next for each of you?
PI – My breakthrough in becoming a writer began in 1995 when I entered NYU. I have been a designer /technical designer in the Fashion Industry from 1980 to 2012. My decision to go to college the first time in 1995 resulted from a conversation I had with a design colleague who saw promise in my writing abilities before I did after giving her something I had written on pattern paper. She specifically said to me, "go apply to NYU" and  I did. Many years before NYU I attended Traphagen School of Fashion in New York, where I gained a certificate in Art and Fashion Design. I have a saying, "I always get what I want," but even so, I work hard to achieve any goal I have reached. In my earlier years fashion was my first love, but as I got older, my desire to become a writer grew as well. Thankfully my MFA degree has come at a time when I grew tired of 9 to 5 work days. My goal is to write and teach and I have started that process by teaching in an after school program and also adults at the public library. Next I hope to publish my novel and book of poems.
MPB – I'm an Associate Professor Emerita of Spanish Literature from the College of New Rochelle where I taught for 35 years. As the mother of two daughters, having taught at a women's college and coming from a patriarchal culture I've seen the importance of making known the women's voice. My research, teaching, and writing has focused on the need to break through the silence imposed on women. My Ph.D dissertation studied the image of women in the 17th century Spanish novel; my poetry collection, Luna Azteca, told the story of the Aztec Goddess of the Moon; my book, The Female Body: Perspectives of Latin American Artists, focused on Frida Khalo among others. My next work is a spiritual memoir encompassing the teachings I received from different masters from Egypt to Peru, where I was privileged to go on pilgrimages. Meditation and spiritual practice are very important parts of my life and I have shared these with my daughters and I also have very close spiritual sisters.
You are both moms of adult children – how does being a parent affect your outlook as a writer. Are your adult children supportive? Did you write when you were younger? If so how many years have you been an active writer. How has your writing changed or evolved over the years ladies? Advice to writers with young children?
PI – My son is quite supportive. He first inspired me when he was little and asked me at bedtime to share stories from my youth.
My writing started as an adult but evolved as I gained more experience through different sources. E.g. school, workshops etc.
My advice to young mothers with children is to get help from family members. PI
MPB – I've been aware of the importance of being a positive model for my daughters and the many women students I've had. I've strived to embody the rights of women and to make visible the power we have by sharing with them my work, my learning, and fostering their own expressions of creativity.
Directing plays with my friends and my little sister was a favorite diversion growing up. I had rehearsals, made programs and we held performances for the parents. This was my first writing experience.
When I took a playwriting workshop with Mexican dramaturg, Emilo Carballido, I crossed the line from critic to creative writer. It was miraculous to be immersed in the universe of words and shaping them into one-act plays, and later into poems as I continued learning about writing by studying poetry with Harry Ellison in his workshops at the Peacock Cafe in Greenwich Village and poetry institutes at NYU with Sharon Olds and Galway Kinnell.
My daughters learned to respect that if I was in my study, I was at work. I had a supporting husband who shared the parenting and we both knew we needed childcare so we could do our work. My advice: you need help and that is a worthwhile investment. It is important to make your writing a priority and to make this known to the family.
Can you discuss the importance of intergenerational writing communities and spaces. What needs do they fill? What would you both like to see more of in writing spaces that you currently belong to?
PI – Intergenerational writing in our writing spaces is effective because there is the experience of living through history when it was being created and passing that experience to younger writers. We need mentors like Kamau and Louis who give us good information and are able to break down the writing process.
MPB – The artists in the Left Bank knew how crucial it was to come together at the cafes in Montparnasse. Sartre and Beauvoir knew how important it was to gather at Les Deux Magots to exchange ideas. The coming together is the nourishment that artists and poets need to learn, support each other, and discuss ideas. 
What skills & strengths do you bring to writing communities at this stage in your life?
PI – I believe the skills and strengths that I bring to the writing community are: to listen and respect other writers, and most importantly to be authentic in writing about my culture and heritage as a Barbadian, since authenticity is where the story originates.
MPB – I bring focus, the ability to set goals and work towards them, the synthesizing of diverse traditions and histories. I am plugged into my history and culture and I bring it forth.
What are some favorite subject matters for you both that you explore in your writing? Does the political climate of today enter your writing? If so how. What genres are you currently focusing on? What writers/authors have most influenced you and why?
PI – Some of my favorite subjects to explore are family, the pastoral and community.
The political argument is still in my head waiting to escape.
MPB –  I explore Colombian myths and history as well as family history and I delve into different beliefs and traditions bringing a worldwide perspective to my work. I am focusing onmemoirs and prose poems. Influences: Gabriel Garcia Marquez, Sandra Cisneros, Junot Diaz, Kamau Brathwaite, Frida Khalo.
What advice would you give to emerging writers on how to sustain a friendship with other women writers? What challenges do you think women writer friends sometimes face? Do you ever observe competition between women writer friends and if so, how can friends avoid that from happening?
PI – My advice is to listen and be respectful to what they have to say.
I believe the challenges women writer friends face are mainly negotiating family issues.
Is there competition among my women writer friends? No, this does not happen, because we are supportive of each other's work.
MPB – Advice: Sharing your ideas, your perceptions, your readings is so important. It's also important to show up for each other, to go to each other's readings. 
Challenges: We need to make writing our priority and to get help to cope with family needs. It's crucial to create communities and not to isolate ourselves. 
Do you have a regular writing practice? Talk a bit about that. (Whether you write daily, what time of day, where do you write, etc)
PI – Not really. I love writing on the train and mostly at night at home when everyone is in bed.
MPB – I always have a pen and notebook with me to jot down observations, what strikes me. I prefer to work in cafes where others are focused on work too. I like the communal feeling and can focus so much more than at home where I'm easily distracted.
Please share one poem that reflects on your role as a mother.
I Sing with America.
To Langston Hughes
I immigrant woman—
mother of an American son,
celebrate your sacrifice Langston
His Black skin bears no marks of ignorance.
I hear you Langston,
protesting, yearning—to be a free American
You made it possible for me to sing.
I Black Anglo Caribbean woman
came to America after you sat at the table
(You fought that battle.)
Now, I too follow my passion
America, "I Too sing." I am Black, I am thriving,
and, my son, Nnamdi is free.
I took my son to museums in New York City
He roamed about the sarcophagi
He is an artist now.
I implanted the seeds of his craft unconsciously
I practiced dedication and education,
I liked spending time with him
and thought, let's go on an excursion
in the Temple of Dendur,
then visit Rodin's Adam and Eternal Spring.
Nnamd's independence and intellect remind me
that finally, we sing America.
Patsie Alicia Ifill
Depth of Field

It was looking at Mami's arms-
so thin now- but in their length
it was almost a photograph of Maya's
arms and mine- all a progression
of long arms and the similar hands on the ends-
and how meticulous she is about her beautiful hands, the well-
groomed nails, nail polish just so- and the two of us
getting manicures because she wanted to be
well-groomed for the trip back home
And Maya's long fingers so clever, so able to
solve anything opening bottles, driving a paintbrush
or a pencil to create what astonishes me, fingers
flying all the time just like Karina's
capable fingers so at ease chopping onions,
seasoning salmon or petting her baby of a cat
and I'm connected to all these hands and here
I am writing this and it's my fingers
doing it and how good it feels to have a pen
in my hand and how frustrated I am when
I have no writing implement.
The other thing is to stroke the cheek and
temple of a lover slowly just feeling,
not seeing except with my fingertips.
Mireya Perez-Bustillo
---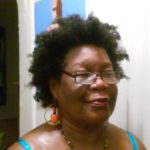 Patsie Ifill is a Barbadian (Bajan) writer and poet. From 1980 – 2012, she worked as a Pattern Designer/Fashion Designer/Technical Designer. In 2000, she earned a Bachelor's degree from NYU, and in 2016 she earned an MFA in Creative Writing from City College CUNY. Her writing focuses on Bajan themes, New York, and the pastoral.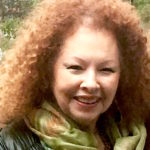 Mireya Perez-Bustillo  born in Colombia and raised in New York, writes poetry and fiction in Spanish and English. In her work she searches for that "other voice" breaking through entrapment and oppression, the fragile markers to unearth more hidden voices. Her work appears in Revista del Hada, Caribbean Review, Americas Review, Diosas en Bronce: Anthology of Colombian Women Writers, Vibe Viva, IRP Voices, among others. Her novel, Back to El Dorado, is forthcoming.