Octogenarian Sips Glass Half-Full
When I walk down the street, a stream of smiles
rolls towards me like a school of rainbow fish.
I guess I must wear quite a grin. My style's
just Carpe diem – blow and make a wish!
Look honey, when you're my age, each day's breath
should get its own bright candle, wax and all.
How many people celebrate the death
of old ex-husband's lovers? Have a ball.
Most difficult about living alone?
Convincing people that if I don't go
to Saturday night toothless Bingo – so?
Well what the hell's the difference? Leave me home.
Still got what mother gave me, ticker's sound – —
way more than my ol' buds beneath the ground.
           — Katrina Kostro
---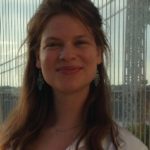 Katrina Kostro is a certified yoga instructor and a medical student at the Columbia College of Physicians & Surgeons in NYC. Her poems have appeared in BigCityLit and Mezzo Cammin, and she won honorable mention in the William Carlos Williams Poetry Competition (NEOMED).