Winter Baby
Tell me the truth, I said to my friend,
who had just given birth. How bad is it?
You won't believe the blood, she said,
for which truth, I am indebted.
And January, especially, is no time
for something so bloody, so replete
with fluid. But there you were staring up
at me, wondering,what happens next?
Nights, as you nursed (I decided never
to refuse you), I read a novel where one character
is castrated, one loses his legs to infection,
another throws himself in front of a train.
A different friend, also a mother, recommended
this book to me. She said I would love it.
My god, I thought. You think your most obvious
flaw is a too prominent nose.
Your father slept in another room.
The wind kept me up after you fell back to sleep.
You and me alone in the kind of winter
in which deer starve.
People will tell you, baby,
this month is named for a god of beginnings,
a god who can look both forward and back.
Other babies will believe it. Don't you.
I used to think, for example, that you would never
get enough to eat, that if I didn't listen to you breathing,
you would forget to do it on your own. In January,
it is impossible to imagine the color of grass.
Instead, we form a belief in dull-knifed amputations,
in the kind of despair that makes us convinced
everyone, everyone is speeding away somewhere else
and only violence might stop them.
These days, when you like what you're eating,
you hum. You don't care who is waiting for you to finish.
I bled for months after you were born
and couldn't get anyone to believe me.
I thought it mattered, their acknowledgement.
Then I realized: No one knows me anymore.
But, listen, baby. January comes from the Latin word
for door. Remember that. How it is in its nature to open.
---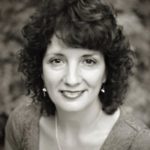 Carla Panciera has published two collections of poetry: One of the Cimalores (Cider Press) and No Day, No Dusk, No Love (Bordighera). Her collection of short stories, Bewildered, received AWP's 2013 Grace Paley Short Fiction Award and is available from the University of Massachusetts Press. Her work has appeared in several journals including The New England Review, Nimrod, The Chattahoochee Review, Painted Bride, and Carolina Quarterly.