Sunflowers
Just inside the gate, the rise and fall of dying
sunflowers: disheveled petals and downcast eyes.
Then a flick of wing and I realize a sparrow
is locked in a kiss of life, face deep in the flower's,
seed by seed, stripping her beauty.
Lines Written on the Election of 2016
The light inside is broken, but I still work:
Sign taped to a broken soft drink machine.
Soon, a meme: All of us facing the New Year.
Now the newly crowned Emperor, Louis XIV-
arrayed. Before light breaks he's graffitied
every last wall surrounding Pompeii.
---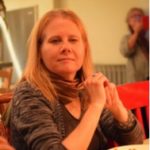 Jean Monahan's published books of poetry include Hands, chosen by Donald Hall to win the Anhinga Prize, Believe It or Not and Mauled Illusionist, published by Orchises Press. Her poems have appeared in Poetry, The New Republic, Atlantic Monthly and Salamander, as well as numerous other publications. She is at work on a new collection, Search Party.