Poem for the New Year
My daughter said she would go outside
her comfort zone, would pull the string
on a booze-bottle popper. When her hands
didn't burn, she popped another. Said
she'd try harder at school, listen
in History. I guess I was going out
of my comfort zone, too, letting her watch
the video of the liberation of Dachau—
a woman on her knees, kissing the arms
of a soldier, weeping, a man lifting a corpse
by the leg like a piece of scrap metal.
I tell her as a child I unraveled the streamers
that fell from the same poppers until l found little bits
of Chinese newspaper, what held the colorful paper
in place. Words I couldn't read or say, words like
oh, honey, don't worry—it could never happen again.
---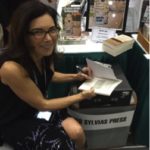 Martha Silano's books include Reckless Lovely, The Little Office of the Immaculate Conception and, with Kelli Russell Agodon, The Daily Poet: Day-By-Day Prompts For Your Writing Practice. Martha serves as poetry editor at Crab Creek Review and teaches at Bellevue College.