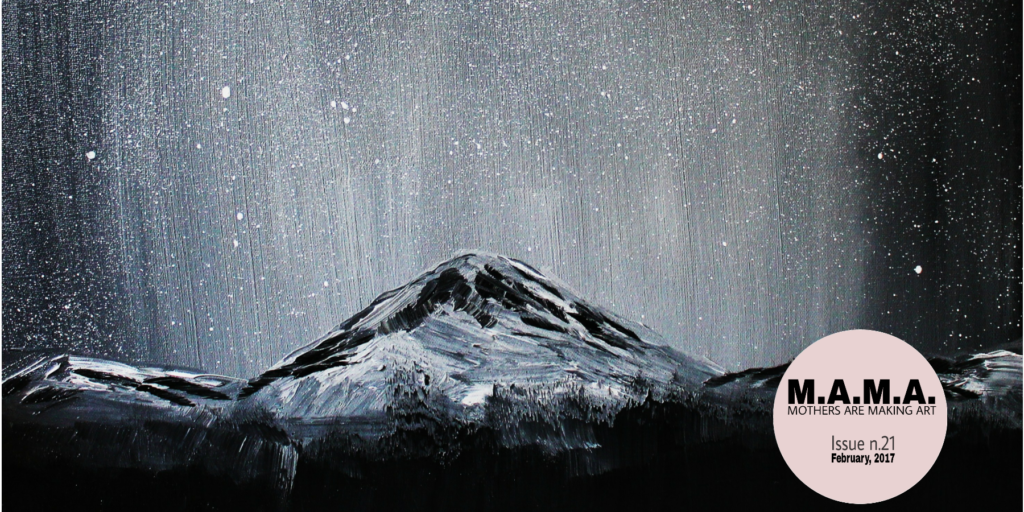 The ProCreate Project, the Museum of Motherhood and the Mom Egg Review are pleased to announce the 21st edition of  this scholarly discourse intersects with the artistic to explore the wonder and the challenges of motherhood. Using words and art to connect new pathways between the academic, the para-academic, the digital, and the real, as well as the everyday: wherever you live, work, and play, the Art of Motherhood is made manifest. #JoinMAMA  This segment features art of Scotland by Aga Gasiniak and Laura Sloan Patterson's prose piece, The Giraffe.
Laura Sloan Patterson
THE GIRAFFE
There is a cry across the hall. Not the toddler cry of I want, I hate, You will do it now, but an adult sob wrested into baby vowels. He squats on the floor, holding a rubber giraffe we once pretended French, a toy he hasn't touched since early teething. He's unearthed his own archeology, buried in a canvas bin, the culture of his babyhood, and there's an electrical crackle of shock. He folds her neck rhythmically and with each chiropractic bend, her keening squeak, and tears squeezed from his eyes. He cannot stop—the squeezing or the crying. He used to squeeze her like that and laugh deep in his body. When he tips his face up to mine, I see that it has happened: he knows I'm useless. He's two, the age of purest reason. But perhaps I am mistaken: was there another offense? Did they quarrel? Did she come home late, smelling of Snoopy and snow cones? I'll kill that giraffe bitch, I think. But later, while my son sleeps. I'll disembowel her and dance on her squeaker. Lying down at night, I see my boy's eyes in that moment of looking up, dimensional tunnels of sorrow. I mentally gather my tools: kitchen scissors, X-Acto knife, trash bags. But in the early morning I wake and know: I could hack legions of rubber giraffes, slit the evil girlfriend's tires, blackmail every admissions committee in the world. No use. It's not them but a sadness sipped from my own placenta, grown in the calcium of his bones. He grips the giraffe like the last bitter tuber in a burned-out forest, a rhizome he must carry on from here.