Jennifer Jean
Speculating
Grendel was the name of this grim demon haunting the marches, marauding around the heath/ and the desolate fens. ~lines 103-4, Beowulf
1.
Sometimes, Grendel is a fist—
is 5 or so dicks
digging into
1 proverbial palm
in 1971.
2.
Sometimes, they're my father.
The timing's right.
3.
Sometimes: I was in there—the box
inside the gift box.
Inside mom—my
pummeled fetal skull &
5 dicks fighting for rights:
sharding
her, making her
guilty for wanting
smokes at dawn
near the Venice Beach boardwalk
in 1971.
She refused
her own words for years.
4.
Sometimes: I slipped past
residual sludge &
my father is Joe,
is known.
Like she said.
& having poured through her
gauntlet means
I've power.
Pain scours &
I'm perfect &
every tunnel opens.
Open esophagus!
Come out
first scream!
5.
Sometimes I'm family, sometimes
not.
The timing's wrong. 9 months &
there was me
& all these hints all along,
from you
uncles aunts cousins kin
in photos I keep.
Who do I claim who claims me?
7.
Sometimes: my kids
know
where I come from
& don't know
they come from that
blood.
They don't believe I
was as small
as a fist.
6.
Sometimes: the air & the light enter my mouth, & crown, &
no matter
what, this body is holy
home.
---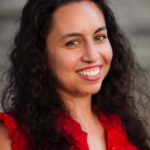 Jennifer Jean's debut collection is The Fool (Big Table 2013). Her poetry has appeared in: Rattle, Waxwing, Tidal Basin, Denver Quarterly, Mud City Journal, Green Mountains Review, and more. Jennifer is Poetry Editor for The Mom Egg Review, Managing Editor of Talking Writing Magazine, and Co-director of Morning Garden Artist Retreats. She teaches Free2Write poetry workshops to sex-trafficking survivors. http://www.fishwifetales.com/