Susan Rich
My Mother Returns From the Dead to Appear on Oprah
~ after January O'Neil
She will say that silence was my favorite response
more than sure, why, of course, or yes.
She will say she never understood me
as if she'd given birth to a dromedary or a quail.
My mother returns to her moment of fame to say,
and then she refused to eat meat.
That some years I'd lock myself in my room
come out only for snacks,
then go right back inside.
She will say I was secretive
like a spy, a double agent, a nincompoop.
Dead, my mother is plain speaking in her views.
She'll claim that I favored my father—
his weakness for pistachios with spiced ginger ale.
How she wished I were thinner, or just fit in
in a normal way.
My mother wants Oprah to join her,
suggests an upcoming show
on daughters who deny their mothers
bloodlines, refuse to pick-up the telephone.
My mother's voice will go all falsetto as she enunciates
a little defensively—
I really wanted to do better.
She'll gaze across the audience, the cameramen,
the empty, elevated seats—
but never look towards me.
---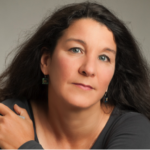 Susan Rich is the author of four poetry collections including Cloud Pharmacy, The Alchemist's Kitchen, Cures Include Travel, and The Cartographer's Tongue, winner of the PEN Award for Poetry and the Peace Corps Writers Award.  She is a recipient of fellowships and awards from Artists Trust, the Fulbright Foundation, The Times Literary Supplement of London and the Mayors Office of Arts and Culture.  Rich's poems have appeared in all 50 States and one district including The Gettysburg Review, New England Review, Poetry Northwest, and World Literature Today. http://www.susanrich.net/