Dawn Paul
My Life as a Dog
The boy with his crooked tooth,
his dying mother, her face like a haggard angel,
the scruffy, scratching dog.
The boy and I astonished and sickened to watch the kindly farmwife
jerk the skin off a rabbit in one quick yank
"taking off his pajamas."
I remember only that and the scene
that ran through the boy's memory like a newsreel:
him on hands and knees, cavorting for his mother
bare feet kicking up puffs of sand
a headstand turned somersault
while she watched, threw her head back and laughed.
Yes. There I was: a little god throwing bright bolts of joy
in my mother's dark house.
Now I see, dear boy. You and I were only fireflies
blundered in through a broken window
or a door left open to the night.
---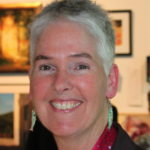 Dawn Paul teaches writing and interdisciplinary studies at Montserrat College of Art. She is the author of two novels, The Country of Loneliness and Still River. Her poetry has been published recently in Naugatuck River Review and Lindenwood Review. She is a frequent performer on the Improbable Places Poetry Tour.