As for Hannah, she was speaking in her heart, only her lips were moving.
So Eli thought she was drunk. — Samuel 1:13
In synagogue I pray,
my body separated from
the men, a glass screen
between us: they still see
me swaying to and fro
to the rhythm of supplication.
My Lord slides in psalms
over my tongue, I am undone
by my wanting. My lips
keep parting & I'm mumbling
like a mad woman—
pouring out the juices
of my soul, down my legs,
down the screen. The men
who see me think I'm
drunk, but they are the ones
who put me here—
I am a woman who is deeply
troubled, my eyes filled
with wine. Have you seen him,
whom my soul loves?
I scream on my hands & knees.
They grab my disheveled hair,
drag me out the house of prayer.
But my heart rejoices in the Lord
& I keep coming back for more.
---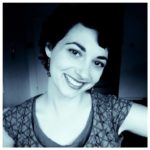 Geula Geurts is a Dutch born poet living in Jerusalem. She is completing her thesis in Poetry at the Shaindy Rudoff Graduate Program in Creative Writing of Bar Ilan University. Her work has appeared or is forthcoming in Rogue Agent, Hermeneutic Chaos, Cactus Heart, Minerva Rising Press, The Fem, Jellyfish Review, and the anthologies: Anthology of Lyric Essays (Tinderbox Editions) and HYSTERIA (Lucky Bastard Press). She works as a Foreign Rights Agent at The Deborah Harris Literary Agency.