Billie Chernicoff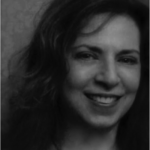 Kimono
1.
Refusal,
acquiescence,
travel.
10,000 hours to master the brush.
10,000 to master silence.
A study of a sparrow,
study of a moth.
The sleeve,
the arm.
An hour to dress.
2.
Ode to the nape of things.
What can't be seen
even with two mirrors.
3.
The Art of Washing the Kimono
Undo the stitches.
Drown each branch,
blossom, cloud, mountain,
stone, scroll, inkwell.
Tell the river everything.
Let it do its work.
Sew again, finer.
Save the old thread
the still useful
transient silk
your mother taught you.
Turn the ruined bird inside
where only you will know.
4.
See you at the opera house
when the lake effect
under Basho's moon
over the sound of the river
the sound of the cloth
the perfume of the washerwoman.
5.
Stone and weather,
like any place.
All we do is move.
Turn somewhere
into somewhere else,
wife into woman under the lake
where you hid your childhood
not long ago, with its secret
naked emperors.