You, little movie theatre in Harlem, two blocks from my home,
Do you remember how you took Mama and me in on weekends?
Like magic on that big screen, you kept Mama sober.
A huge tub of popcorn on our laps, smell of butter,
just a few more hours to pretend
we were happy.
We were happy.
Burgundy-crushed velour seats,
edges worn, butter-stained, bittersweet,
my mind wondering away before opening credits rolled.
Would you go back to your dark room Mama?
Little theatre on 147th and Broadway,
we cried uncontrollably
when closing credits for Ben started rolling.
Michael Jackson's tender voice singing,
Ben, the two of us need look no more
We both found what we were looking for
The theatre emptied out,
while we stayed in our seats sobbing,
crying for Ben, a rat, while Michael's delicate voice tugged at us.
Mama, I never wanted us to leave that theatre.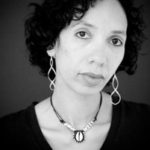 JP Howard aka Juliet P. Howard is a Cave Canem graduate fellow. She is the author of SAY/MIRROR, a debut poetry collection published by The Operating System (2015) and a chaplet "bury your love poems here" (Belladonna Collaborative*, 2015). JP curates and nurtures Women Writers in Bloom Poetry Salon (WWBPS), a forum offering women writers at all levels a venue to come together in a positive and supportive space. JP is an alum of the VONA/Voices Writers Workshop, as well as a Lambda Literary Foundation Emerging LGBT Voices Fellow. Her poems have appeared or are forthcoming in the #BlackPoetsSpeakOut edition of pluck! The Journal of Affrilachian Arts and Culture, The Feminist Wire, Split this Rock, Nepantla: A Journal for Queer Poets of Color, Muzzle Magazine, Adrienne: A Poetry Journal of Queer Women, The Best American Poetry Blog, MiPOesias, The Mom Egg, Talking Writing and Connotation Press, among others. She holds a BA from Barnard College and MFA in Creative Writing from the City College of New York.