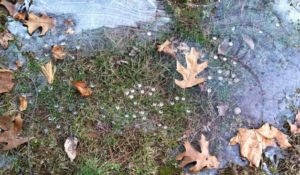 Autumn Renga
R. Erica Doyle,  Monica A. Hand,  Yona Harvey,  Cherise A. Pollard,  Kate Rushin
Searched for shooting stars
found silence in The Milky Way
harvest home. (Kate)
Blue moon is not blue it's white
just like all the other moons. (Monica)
Like the ancients, I
navigate constellations
your visage, my sky. (Erica)
Stars pulse desire into the cosmos,
night winds cool our Autumn heat (Cherise)
wood fire warms the room
flames light nearby photographs
distant relatives. (Yona)
Calls, cards, old hymns keep us close:
prayers in the season of night. (Kate)
Orion will rise:
thousands of blackbirds gather
in evening branches. (Kate)
Your arms heavy from my weight:
beam across skies claim our way. (Monica)
Rain is darker than
the shadow of your mouth near
the moon's fading face (Erica)
Searching your eyes, I find hope
the cosmos blooms, shifts: our shared soul. (Cherise)
Evening waters
she bathes herself
in Sarah Vaughan. (Yona)
Sharp intake sweet release
honey bitter apple love. (Kate)
Harvest moon
smoke from wildfires
near: (Monica)
night lengthens ash leaf
she sleeps and dreams solstice. (Erica)
Heat rises through bare soles
our brackish bodies beam
warm together in darkness (Cherise)
salted mouth, sweet hunger. Touch.
Touched. Had I forgotten? (Yona)
Burrow in darkness
practice, cultivate faith
hyacinth blue. (Kate)
First sight a hint of yellow
migrants floating on dark shores
hummingbirds fleeing
winter; their gorgeous bodies
glimmer – mute sound (Monica)
of sanctuary. Gather
all who wander in winter (Erica)
earth solid beneath
we become. Rooted:
love and wonder swirling flurries. (Cherise)
Stray strands at our foreheads–sparks?
Silver of winters witnessed. (Yona)
Radio funk jams
transport us to pulsing nights
360 horizons: (Kate)
Hot fun in the summertime.
Your sphere of influence (Monica)
and the gravity
of now. Out of our
constrictions. One Nation (Erica)
We slide. We rise. We enter
sweetness and fulfillment as one. (Cherise)
One nation
under a groove, we spin.
We are the sound (Yona)
surviving, thriving. Stand.
In the end we'll still be (Kate)
scorching henna lines
embers at our fingertips
indigo. (Monica)
Moon passes through gut of sky
from pearl blade to disc, cups a
planet in its palm;
so a woman spins a root
beneath dead leaves, sings (Erica)
verses soar. Cirrus clouds hold
melody as sweet as hope. (Cherise)
We have known rivers.
We have said, yes, like trees
and flowered. (Yona)
We keep on moving, flowing.
Life. We say Love. We say Life. (Kate)
Angel trumpet
flares Hallelujah jazzy
dance. (Monica)
From the eastern gardens,
we sea-drenched bloom in dayclean. (Erica)
---
R. Erica Doyle is the author of proxy (belladonna*). the child of trinidadian immigrants, she was born in brooklyn during a snow storm. follow her comings and goings at www.rericadoyle.com
Monica A. Hand is the author of me and Nina (Alice James Books, 2012.) Her poems have been published in Cortland Review, Pleiades, Oxford American, Spoon River Poetry Review, Black Renaissance Noire, The Sow's Ear, and Drunken Boat. She has a MFA in Poetry and Poetry in Translation from Drew University, and currently, she is a PhD candidate in Creative Writing – Poetry at the University of Missouri- Columbia.
Yona Harvey is the author of the poetry collection, Hemming the Water, winner of the Kate Tufts Discovery Award. She teaches in the Writing Program at the University of Pittsburgh, and her website is yonaharvey.com.
Cherise A. Pollard, PhD, is a Professor of English at West Chester University of Pennsylvania. A Cave Canem Fellow, her work has appeared or is forthcoming in several journals including Rattle, The Pittsburgh Poetry Review, Connotations Press, The Healing Muse, Affilia, African American Review, and 5 AM.
Kate Rushin is the author of The Black Back-Ups. She holds an MFA in Creative Writing from Brown University, as well as fellowships from The Cave Canem Foundation and The Fine Arts Work Center in Provincetown. She has taught poetry and African-American literature at MIT and Wesleyan University and has held residencies at AS220 and at Westfield State University. Her work appears in "Callaloo," The Jazz Poetry Anthology, Sister/Citizen and Raising Lily Ledbetter: Women Poets Occupy The Workspace. She has read at The Sunken Garden Poetry Festival, The Dodge Poetry Festival, Poet's House and on National Public Radio. Kate currently serves on The James Merrill House Committee.