I set the trap tonight.
Last week I wrote in my journal that life is sacred.  Later, I bought the trap.
Tonight I read to my child. Do animal mothers love their babies?  Yes, yes, of course they do.  Animal mothers love their babies, just like yours loves you.  I kissed him goodnight.  I came downstairs.  Shakily I spread the peanut butter onto the trap.

A minute ago I went outdoors.  Two steps beyond the door, I stopped to breathe the cold air, to salute the moon and stars, so bright in a sky framed by the silhouettes of bare branches.  When I opened the coop, the hens cooed at my surprise nighttime visit.  In the day come to feed them layer pellets, layer their bedding, shovel their shit.  In exchange they give me eggs and entertainment
Now I am plotting.  This corner behind the water is cramped.  The droppings there are long, oval, and well-formed, not like chicken droppings.  Some are shiny and black.  This means fresh.  The trap belongs here.  The bait is ready.  The springs are tight.  The catch is tentative, ready to snap.  Watch your fingers! I remind myself, as I place this invitation for a final feast and a swift death.
The trap is waiting.  I come inside, take my headlamp off, my coat off, my shoes off.  I go upstairs.  Take everything off.  Tell my husband, I set the trap.  Hope when he says, That's exciting, he means my naked body and not my murderous intentions.
Rat, you wretched creature, squatter, thief, how would you spend your last night on this earth?
I slip under the sheets, lock limbs with my lover.  Eventually, we sleep.
Tomorrow I will have to face my kill.
---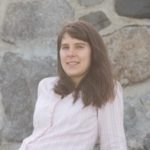 Writing has been Sarah Shamel's favorite creative outlet since she finished birthing babies.  Her blog can be found at http://sshamel.wordpress.com/author/sshamel/. Along with her writing group, she organizes and participates in semi-annual Mothers' Open Mics which can be found geographically on the North Shore of Massachusetts and on Facebook at https://www.facebook.com/groups/538779649514877/.  Sarah has just started sending her literary "babies" out in to the world of publication.