At 2 am I sit in a car in an unmarked parking spot around the corner from the house.
Will he escape from his room, jump onto the roof and down to the driveway to run?
Earlier, I tell his probation officers he won't be showing up.
The burly men are here to haul him outward-bound to West Virginia.
The escort service owner assured me I'd be able to say goodbye.
But the ex-CIA men push me aside and out the door as they bound up the stairs.
I wait, my eyes fixated on my driveway.
The three of them finally emerge from the house.
The men force my son's arms behind his back
And push him into the back seat of their sedan
Like a prisoner. I burst into tears.
I want to yell out
That I love him,
Despite his cruelty to me and himself.
Instead, I cover my mouth.
He looks so helpless and yet so guilty.
If our lawyer hadn't told the judge about my his acceptance into the program,
My son would have been carted away to juvenile hall for burglary.
That was after he overdosed on seventeen coricidin pills
And after I forced him to drink charcoal to neutralize his system.
The car backs out of my driveway and I study it as it
Tears down the hill and turns out of sight.
I get into my own car and hit the ignition.
My sister expects me at her house to give me support.
I call my mother on the way and she, stoic till now,
Cries with me.
I can't remember how to get to my sister's.
---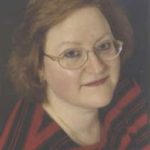 Barbara Krasner teaches creative writing at William Paterson University in New Jersey. She holds an MFA from the Vermont College of Fine Arts and her poetry has appeared in or is forthcoming in Nimrod, Paterson Literary Review, Poetica, Jewish Women's Literary Annual, Minerva Rising, among others.
Web page: www.barbarakrasner.com