The message comes toward the end
of a long Saint Joan run,
my daughter's final
performance in the title role—
when we get back late that night the light on our machine
flashes like a Broadway Marquee and my brother on the other end
says that I should return
his call. He's had a heart attack, in
ICU with a complicating infection of the blood, and I dither
the rest of the weekend about whether
I should make the trip.
In the end I decide to risk
it, don't change my plans to go
in another month, betting he'll live, at least for now.
---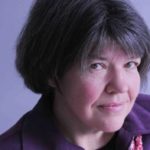 Wendy Vardaman, www.wendyvardaman.com, is one of two Poets Laureate of Madison, WI and co-editor/web master of Verse Wisconsin, versewisconsin.org, and Cowfeather Press, cowfeatherpress.org. She is the author of Obstructed View (Fireweed Press 2009) and co-editor of the 2013 Wisconsin Poets' Calendar. In addition to poetry, she writes essays and interviews, which have appeared in Poetry Daily, Women's Review of Books, and Poets.org, as well as other venues. She has a Ph.D. in English from the University of Pennsylvania and works part-time for The Young Shakespeare Players. With husband, Thomas DuBois, she has three children and does not own a car.