I love having a belly full of babies. There are two in there, a boy and a girl, and my body gets busy making them arms and legs and hearts. I leave my job a few months early, supposedly to sit on my porch swing and sip lemonade. Instead, I give birth early, and no one can stop it.
I hide from my boss a few months later. I'm at the grocery store, and I don't want her to see that I'm not pregnant anymore. I don't want to say the words out loud. That would make them real. I freeze in place, then I drop into a crouch behind the citrus fruits. She is a meticulous, sharp woman, and I watch in agony as she picks up first one lemon, then another, finally putting three in her bag. I slink around the grocery store, moving behind her, obsessed with her location and my own need to get the shopping done. My baby girl is in the hospital, and I want to get my groceries home so I can go see her, but instead I'm trapped among the cans of weird Asian vegetables and exotic sauces.
I hide my pain and scars. I move slowly in my loose dress, careful of the bandages across my belly where the surgeon's knife cut the babies out in a rush. I think about my baby boy, and how palpably glad he was to be released from his tiny purple body that wasn't ready to be born.
I move through life, day by day, living a different life than I expected. I have one baby, not two. My little girl is covered with tubes all taped to her face and hands, and she smells like rubber and plastic and hospital. She lives there, with the nurses that play dress up with her in the spare hours of the night, and the doctors that sit us down for updates when we come to visit. I hide my fear and dismay and exhaustion, grateful to them for her life.
She had a brother for a few days. After his death, my husband and I indulge ourselves in whatever form of comfort we can find, crying, shaking our fists, sleeping, allowing others to feed us. We spend a lot of time in bed, sometimes balled up, sometimes watching TV, eating fried chicken or whatever people bring us.
One night we see a news story about a beached whale on the west coast. Dozens of people are gathered around looking at it. The officials talk and plan. We watch in fascination as they began to set up dynamite around the whale, nestling it in the sand up against the big white belly, the dead flesh. A large crowd gathers, then everyone is ordered to stand back as the explosives are detonated.
The whale completely vanishes and an eerie silence falls on the beach as everyone looks around, confused. Suddenly the first chunks begin to fall from the sky and it rains whale on the beach. I press a pillow against my belly to hold it together, I am laughing so hard, afraid I'll tear open. The pain is intense, and yet I laugh at the whale chunks and the bewilderment on the faces of the men who blew up this animal.
My laughter turns to tears, the pain overwhelms me. The scene becomes a tragedy as the large flopping chunks of whale knock bystanders into the sand. I see them lying helplessly, waves washing over them. They wipe whale juices off of their faces. Cars swerve to avoid the pieces falling from the sky, crashing into each other crazily. Rescue workers arrive, sirens wail. I wail. I cry for him to turn it off, make it stop.
But the crisis unfolds, and there is nowhere to go but forward. I seek comfort in my husband's arms. We grieve the loss of our son and stumble into our brand new future as the parents of our four-pound bundle of joy.
I seek the chance to be a good mother. I pump milk from my breasts, taping a tiny picture of my baby girl to the big pump, trying desperately to keep the milk flowing. I cry when the nurse tosses the little bags of milk in the freezer. The nurse says that the breast milk doesn't have enough fat in it, and she uses formula instead.
I seek answers. Why did this happen to us? No one can tell me. We cry, we wonder what to do. We have so many visitors, so many cards, and we try to absorb it all.
I seek approval. Before we bring our daughter home, we spend the night at the hospital. We've got to pass their tests and prove that we can take care of her. "Look, I can get the bubble out of a syringe! And I can get a full four ounce bottle into her." I proudly show the nurse my accomplishments, and she writes them down in her notes.
We bring our daughter home, and we adjust to being parents. We're fearful parents, worried that she'll stop breathing, or that she won't eat enough, or that she won't turn out right.
I seek relief. I seek God. I look in religion first, then I look around in the woods. I look inside myself. As the years go by, I learn from my daughter, empowered by love. As it turns out, I'm perfectly capable of feeding her and wrapping her up correctly. I learn to keep my heart soft, my mind nimble, and my body strong. I watch her grow, and I feel peace that we turned out okay together.
---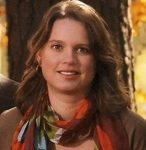 Originally from Rhode Island, Ivy Rutledge lives and writes in the Piedmont of North Carolina, where she shares her life with her husband and two children. Her work has appeared in The Sun, Home Education, Ruminate, The Copperfield Review, and Tilt-a-Whirl, and she recently had a story included in the Main Street Rag anthology, Altered States.