Mom Egg contributor RH Douglas passed away last week. Cheryl Boyce Taylor writes of her, "She was a brave Warrior/Poet/Trini/Mother-Woman-Wildness. Say a prayer for her peace and safe travel." In Rodlyn's memory, we are re-printing a poem of hers originally published on our Myspace blog in May,2008.
Benediction
by R.H. Douglas
The Sun is warm here
My heart opens
To its rays.
Salt water sprays my face.
Grit washed away.
I leave the excited city,
A chiseled world,
To find my soul in the ocean's rhythms.
Bless me Mother.
Mother of the deep
You who do not sleep.
Do you feel me Mother,
Skirting your shores?
Foamy trimmings
Edge of my feet.
Do you sense my desperation,
My haunted longing to return
To your watery womb
Where I have always found peace?
All praise Mother.
All praise.
Childhood memories,
Are just that.
Memories.
Leaving salty taste
Of ocean diving,
Swimming into your deep
On blown-up rubber tubes
And rafts made of driftwood.
Floating out on a dare
Feet no longer touching
The safety of your sandy bottom.
Floating, like I did in her womb.
Bless me mother.
This morning,
I watch your currents ebb and flow…
I remember all the mothers of the water
Queen of the Sea, Mary
Yemanja
Yemaya
Mama Glo
Grama Sandrene.
She, the great-grand
Who taught me
To respect your
Ebb and flow…
To use your salty waters
To wash away my blight.
To offer you the squeezed skins of limes
Watch them float out on currents
Into your deep.
All praise, Mother.
All praise.
This day, I want to give you
Calabash filled with menstrual blood
Sanctified, purified blood.
The blood that connects me
To my ocean worshiping great-grand mother
Who taught me to honor
And respect your power.
Limes when mixed with seawater
Removes the blight of curses unknown.
She said this in her patio tongue –which I did not speak
But understood, her tone, her action…
Don't play with the sea, child,
Show respect, or else it claim yuh life one day.
Use the lime, child.
Rub yuh body, even down dey.
Then fill calabash,
Throw the sea water over
Yuh head, three times…..just so.
Then back out child…back out.
Never turn yuh back on the sea.
Is disrespect like that
Make the sea claim yuh life
One day, child.
I have indeed
Turned by back
On all my Mothers.
She, in whose womb I swam,
I ask forgiveness, indifference, my sin.
On you, Ocean Mother
Bearing water of waters, Mother.
Now I return to your shore
In a strange country.
The sun shines here too,
Your rhythm remains the same.
All praise, Mother.
All praise.
I give to you
The juicy fullness
Of my woman's worth.
Ebbing and flowing…
These words,
This benediction…
My weapon against
The tides of memory
And forgetting who I am.
Bless me Mother.
---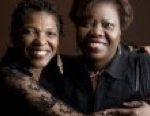 R. H. Douglas was a diarist, performance artist and storyteller. Her work has been published in anthologies and literary journals, including: Life Notes; Patchwork of Dreams; Erotique Noire; Pearls of Passion; In Praise of African American Mothers; Creation Fire and New Voices. She conducted writing workshops for senior citizens through Poets & Writers. RH performed at several venues, as an individual and with her performance group, SpiritWoman.