When was your last colonoscopy? the tidy, compact gynecologist inquired, a man so devoid of sexual aura that he can stand fully clothed over your naked spread-eagled body without a hint of inappropriateness.
Um, never, I answered as he fondled my breasts, gazing up at the ceiling and missing the fact that I breathe a little harder when nerds touch me, even him. He quickly moved his hand between my legs and downward.
OK, Miss Never, he answered, the funniest thing he has said in the ten years I have been seeing him, I have plans for you. First time I've been called Miss Never by a man with his fingers up my pussy, but, unlike the rest, at least he had a plan.
Part One was a sonogram in which a gorgeous leather-clad Russian immigrant named Greta chatted to me while I reclined on a table, naked again.  Can I play my IPOD while we do this? I asked. IPOD! For what you need IPOD! Ten minutes it takes! We will talk! Like most modern Russian immigrants I have met, she managed to combine charm, mock anger, dominant control, and a nose wrinkle into every syllable. This is a different model than the ones in my heritage, who wore Minnie Mouse shoes and slammed their hands on tables and yelled "SHAH!" She was true to her word; approximately nine minutes later I was getting dressed and tucking away her brother-in-law's business card; apparently, we'd be perfect for one another and his wife was too busy with the leather business to even care.
Part Two was a bone scan which did not include total nudity, but introduced a new player, Britta, a curvy thirtyish Polish lady who expressed an interest in my writing and who shared my interests in perfectly fitted leather vests and the Velvet Underground.  I was glad we had bonded because I needed a good friend by my side during my measurements – from all indications I was now 5'4, not the 5'6 and ½ inches I had bragged about my entire life.  When you were measured last? asked Britta, to which I had no reply. Do you know what this means? I demanded. Before I walked in here, my weight was about right for my height, and now, minutes later, I was obese!
Poo! yelled, Britta, they are just numbers – Don't listen! You are gorgeous!  As reams of paper rolled from the printer, she became more and more pleased with the results of my tests – not bad, not bad, she repeated; apparently there was no hint of osteoporosis and little bone deterioration over the past several decades, femurs and spine still pretty much upright – these numbers, according to Britta, mattered more than the fact that I was no longer almost tall enough to be a short model and would now forever be of average height, or less!
How about my body fat index? I asked, reaching for the print-out. Numbers!!, shrieked, Britta, mean nothing! – she had progressively regressed into the pigeon English she must have spoken when she entered the US as a third grader twenty odd years ago. Total body, not bad, not bad!!! she insisted, holding the papers behind her back. If we're going to wrestle for them I'm getting dressed first, I said, feinting a move towards my jeans, and suddenly snatching the print-out from her hand. Don't get upset! she begged, it's just your gynoid that has most fat. My what? Your ass! – and sure enough, my gynoidic ass was 47% fat!!!! You mean my fat ass makes my ass look fat? I asked, snorting in delight. Tear it up! she instructed. I'm keeping it, it's hilarious, I said, I have the fattest ass in this entire building, I bet, maybe on the whole East Coast. I was so jubilant, I momentarily forgot how short I was. Britta called me at home twice to make sure I hadn't grown despondent about my newly short stature and enormous ass; on the contrary I had told everyone I knew about my 47% tub of lard and posted it as a status update on Facebook.
Part Three – Mammogram, another Princess, this time a Brooklyn Italian beauty, who told me how thin I was, even after I explained that I had, overnight, become short and fat. The most eventful part of the visit was the cool steel pasties I got to wear during the procedure. The following night, I attended an art opening entitled Faggot Carnival, which was hung in a basement on Clinton Street, below Grand, and promoted by young ladies dressed as dominatrix's.  While chatting about whips and collars, I lifted my shirt to make a point and suddenly remembered I was still sporting my steel pasties, which made quite a hit and gained me new credibility in the art world.
Unfortunately, all parties end. Although it was a fun-packed week, by the time I received my test results (all negative) and began to select outfits for a new round of referrals, I had lost job, health insurance, and the original steel pasties as well as another set I had swiped as souvenir. Hopefully, my short, fat, thin, big-assed body will remain in holding pattern until reasonable options are offered by the real fat asses who run things. Meanwhile, I'll just find other ways to have fun and meet new friends.
---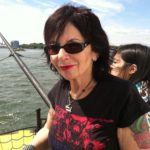 Puma Perl's poetry and fiction have been published in over 100 print and online journals and anthologies. Her first chapbook, Belinda and Her Friends, published in 2008, was awarded the Erbacce Press 2009 Poetry Award in a field of over 1400 applicants; a full-length collection, knuckle tattoos, was published in early 2010. She performs her work in many venues, in and out of New York City. She lives and writes on the Lower East Side and has facilitated writing workshops in community based agencies and at Riker's Island, a NYC prison.  She believes in the transformative and healing power of the arts. http://pumaperl.blogspot.com/