It's quiet.  Really quiet.  My son is at my ex-husband's place for the week.  The constant outer noise and inner static of an intimate relationship that is now over is gone.  Most efforts at reaching out to build business interests beyond what was already emerging stopped around six months ago so all my energy could go toward finishing the Eden trilogy.  And now, the silent prayer of the last fifteen years has been fulfilled. My life is very quiet.
Not only is my outer life very quiet, my inner life, my mental life is much quieter.  I was shook three weeks ago under a full moon with a six-day fever, possibly H1N1 and slight pneumonia.  When the six sleepless nights came to an end, it was like I had emerged from a natural disaster or near-death experience.  I felt like the old was wiped away and there was nothing to say and nothing to do, but be with the now.
It's a beautiful thing. Quiet. Stillness. It's a miracle. It's especially a miracle for someone like me who has always (unconsciously) sought to fill up every square inch of space, time, and life with STUFF.  Like all people, suffering from a hole inside that they do not know from where it came, I had an insatiable need to keep my life very full, and my closets fuller.
This summer little by little I started to acclimate myself to the feeling of emptiness. I hired an organizer for twelve days over a couple of weeks to help me go through every square inch of my apartment: every paper, every file, every closet, every book, CD, photo, DVD, journal, pencil was organized. It was grueling, exhausting and exhilarating.  I told myself I was preparing to move.  Preparing to move finally into my "real" home. (See Finally Forty! Part I).
I had many files from my days as a marketing manager in the early '90s. Could I be sure that I would never, never need to look at those files again, even though I hadn't in over ten years? What about as material for a novel?  They got tossed.  I found two letters that I had spent six years looking for that I was sure had been lost in the move after the divorce.  Letters that were critical research for the second play.
I bought a shredder and with heartache shredded many of the notes from the time of my divorce.  At some points, I found myself short of breath, shaking or with a stomachache.  I had to take frequent breaks as the papers rekindled the feelings of the time.  My organizer, Thea, came in with a mission to accomplish and like a military officer forbid letting emotions get in the way of the daily operation.  She kept me on task. "Shred or file?" she would ask.  It was often after she would leave at around five, that I would find myself in bed adjusting to living with this new greater emptiness and order.  My amount of time in bed processing my daily losses was often proportional to how many bags of garbage were tossed or by the significance of the papers shredded.
I would not be sitting here now in this quiet with all my hair still in my head if it were not for this warm-up in living with emptiness that I endured this summer. There are those that get joy from tossing and living minimally, and those like me who get joy from holding and living in chaos.  For some reason, this summer after I turned forty, I got this idea, maybe I will try living a different way. I will experiment with living in order and more minimally.  As I write this, my dinner dishes sit in the sink and the dirty frying pan is still on the stove.  But nonetheless, much of the order established this summer has prevailed.
It is so tempting to revert to my old life of continuous clutter, drama, and fullness.  I suspect in time, whether I like it or not, chaos will triumph.  When moments of loneliness, emptiness, fear almost sweep me away, I remind myself, you created this, you wanted this, you prayed for this at least you could do is try to enjoy it!  Try to enjoy the quiet.  Try to enjoy the order. Try to enjoy the emptiness.

What is so beautiful and miraculous about this time and attempt at order, emptiness, and quiet, is that I sense that inside that hole is not quite so big, ravenous, and domineering as in the past.  The dragon somewhat quelled.  I feel capable of being with myself in the quiet, leaving my hair in my head, and knowing that I do have the choice to stir up my life again when I am ready.
---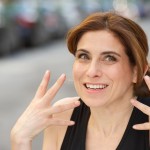 Alana Ruben Free is a playwright, poet, and writer.  She was founding editor of The Mom Egg, and co-edited the publication for six years, and is the producer of the documentary, The Last Stand.  Her play, Beginner at Life, has been produced in Australia and Italy, as well as New York City. http://www.beginneratlife.com.