Anne Waldman Interview from Marjorie Tesser on Vimeo.
on gender and writing;  her epic Iovis project; collaborations with other artists;  Manatee/Humanity and more.
With Marjorie Tesser
Bowery Poetry Club
Nov. 2008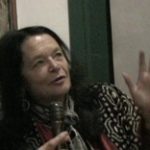 Anne Waldman
 – poet, professor, performer, and cultural activist is the author of over 40 books and small press editions of poetry and poetics, including most recently Manatee/Humanity and the anthology Beats at Naropa, co-edited with Laura Wright. Other titles includeFast Speaking Woman, IOVIS (I&II), Vow to Poetry: Essays, Interviews and Manifestos, Marriage: A Sentence, In the Room of Never Grieve, Structure of the World Compared to a Bubble, Outrider, Red Noir and Martyrdom. She also edited The Beat Book, and is co-editor of Disembodied Poetics: Annals of the Jack Kerouac School, The Angel Hair Anthology, and Civil Disobediences: Poetics and Politics in Action. Her numerous CDs include The Eye of the Falcon and Matching Half (with Akilah Oliver), with music and production by Ambrose Bye. She has performed her work on stages across the American continent and abroad, collaborating with Douglas Dunn and dancers and musicians on the performance "Tanks Under Trees" in Houston and Manhattan, and with artists Donna Dennis and Pat Steir on recent book projects. She has participated in conferences and festivals in Beijing, Berlin, Vienna, Nicaragua and Prague and has taught recent practicums at the Zen Mountain Monastery and Naropa University. She works with writer/director Ed Bowes on a number of video/movie projects.  Anne Waldman is the Co-founder, Distinguished Professor of Poetics, Summer Writing Program Chair and Artistic Director of the Jack Kerouac School of Disembodied Poetics.