JP Howard
Night stand
Mama buried herself in liquor
Love kept her locked in that room
Secrets are like insides of coffins
We hide everything in plain view
Everybody knew Mama had a secret lover,
Tucked under her night stand
Mama kissed his framed photo each night
Before she tucked me in
sugar hill, a love note, in pieces
sugar hill you still in my bloodline
when the world gets too crazy,
convent avenue call my name
she say, Juliet come play hopscotch on the block baby girl
sugar hill, i still love you,
even though mama almost died there
remember when i found her on our sofa passed out?
every time I feel someone's pulse, i remember mama
sugar hill, you rocked me to sleep every night,
my sadness, a toy i couldn't let go
still, you let me jump rope, collect Barbies and Kens and their Malibu house
you tried so hard to let me be a child
sugar hill, do you remember
how i buried my secrets in apartment 33?
i hid them behind our broken bathroom tiles on crumpled paper
dear diary,
i'm sorry mama is so sad all the time.
i hear her crying behind her closed bedroom door.
it makes me sad too.
love,
Juliet.
---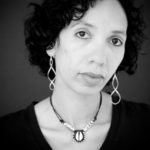 JP Howard's debut poetry collection, SAY/MIRROR, was a Lambda Literary finalist. JP was a Split This Rock Freedom Plow Award finalist and is featured in the Lesbian Poet Trading Card Series (Headmistress Press). She has received fellowships from Cave Canem, VONA, and Lambda. JP curates Women Writers in Bloom Poetry Salon.